2022 in Review and January 2023 Newsletter
What's New With Sustaining Way?
From the Executive Director:
Looking back at 2022, we can't help but be thankful for all that we were able to accomplish with the support from our many donors, volunteers, partners, and wonderful board and staff. A focus for 2022 was beginning the implementation of our new strategic plan that covers 2022-2026. A significant first step in this journey was developing the funding and capacity required to reach our ambitious goals. We had several significant milestones as part of this. 
We hired Michael Brown as our first full-time Executive Director in April and Fernanda Rabago as our Operations Coordinator in September, completed a variety of site upgrades at Annie's House to make it more accessible and better support our mission, implemented a variety of policies and procedures aligned to nonprofit best practices, and revamped our volunteer engagement efforts including creation of a volunteer handbook, onboarding process, and recognition program. We formed several new partnerships, with our staff serving in impactful leadership positions on a variety of local, state, regional, and national coalitions and boards. These partnership opportunities included being invited multiple times to educate and advocate with members of our state general assembly. In New Washington Heights we completed Environmental Justice Cohorts for community leaders and provided support of community advocacy efforts around a proposed bus maintenance facility, and were a founding organization for a statewide electric vehicle hub. We restarted our Steward Youth Education and Energy Home Visit (EHV) programs that were negatively impacted by COVID-19. Read the story of our most recent EHV that resulted in a 56% reduction in energy usage!
See the graphic below for an even more comprehensive list of accomplishments from this year.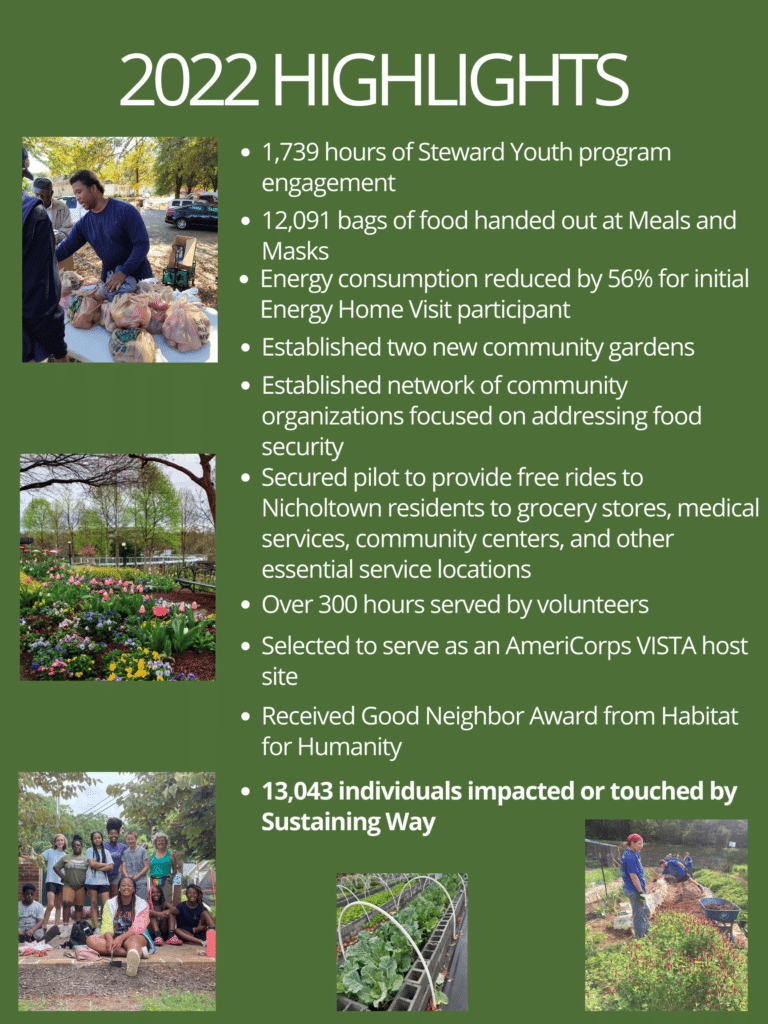 ---
Thanks to all of your generosity, we were able to impact 13,043 individuals in 2022. Through Sustainer donations, Giving Tuesday, end of year campaigning, Community Thrives, all other individual donations throughout the year, and all of your continued support, we were able to exceed our fundraising and programming expectations. All donations go directly into our programs and therefore go directly to supporting the Nicholtown community.
As we look forward, we are excited about the opportunity to build on our prior successes in an effort to reach our vision of a world where all neighborhoods, people, and nature thrive. Some highlights for our plans going forward include a further expansion of the AmeriCorps VISTA program from four to eight positions and onboarding four more VISTAs focused on Sustainable Agriculture, Community Health, Sustainable Energy, and Organizational Growth and Governance. We will also be continuing to collaborate with our partners to further expand our mission, including providing additional workforce development opportunities around sustainability-based jobs and launching regional energy summits. It is such an exciting time to be a part of Sustaining Way, and I am personally grateful for the opportunity to serve as the Executive Director at such an impactful organization. None of this would be possible without you. We thank you for continuing to believe in our work and mission. We had a very blessed 2022, and cannot wait to continue to thrive together in 2023!
---
Meet Our Newest Staff Members!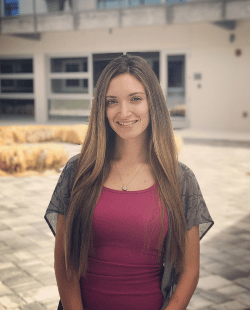 Nicole Scholz
Nicole Scholz is Sustaining Way's new Storyteller. She is originally from Lima, Peru but lived most of her life in Florida. She graduated from Florida Gulf Coast University with a B.A in Communication; she then obtained a Master's degree in Nonprofit Management from the University of Central Florida. Some of her passions include health and wellness, helping nature and animals, and working towards achieving positive social change.
Megan Kovacs
Megan Kovacs is the Social Media and Marketing Intern for spring 2023. She is a student at Clemson University where she is pursuing a B.S. in Marketing with a minor in Sociology, and she is set to graduate a semester early this coming December. She is passionate about diversity, equity, and inclusion and all types of sustainability. She hopes to raise awareness of and better educate people about available resources and information through different media channels.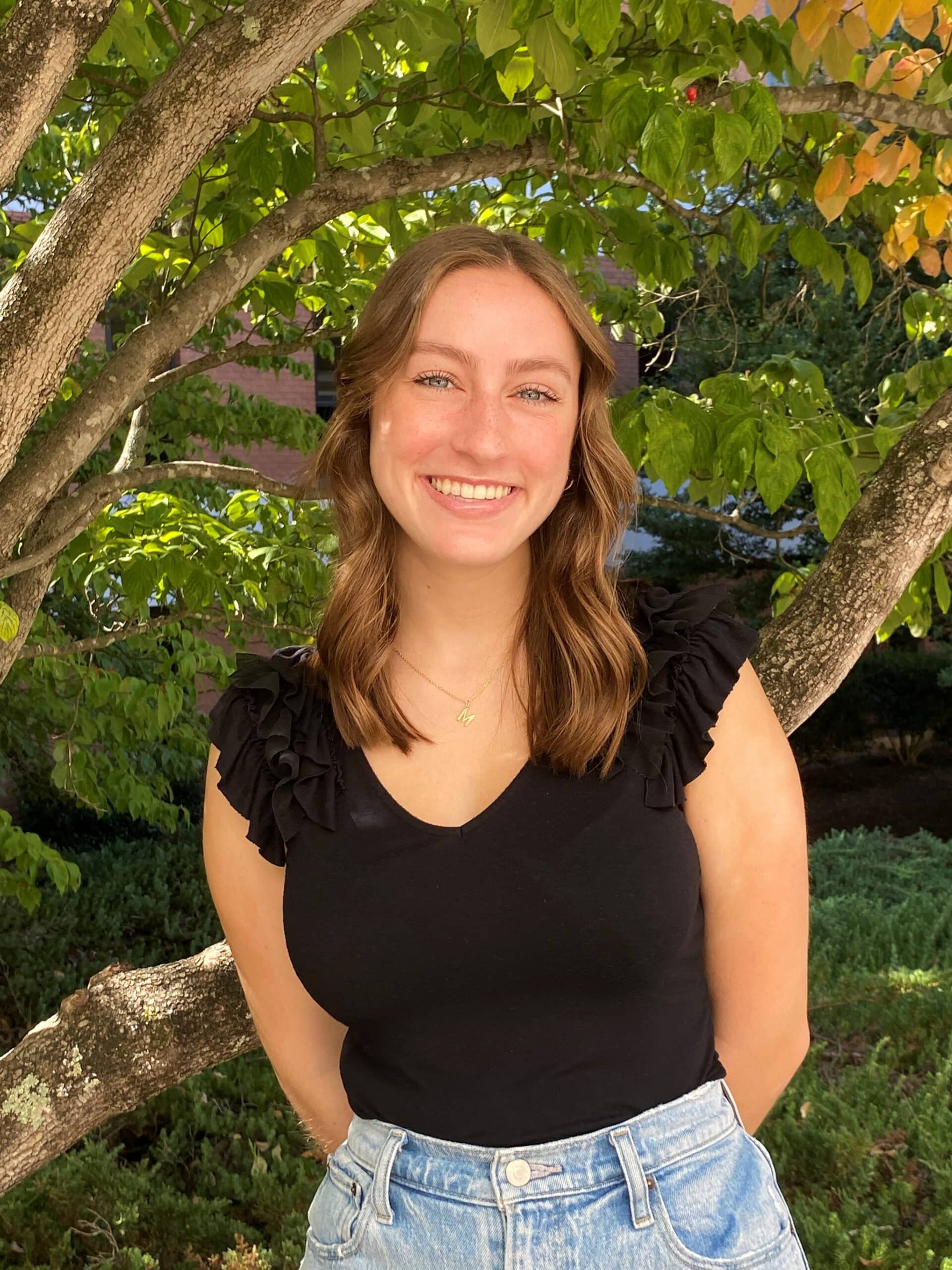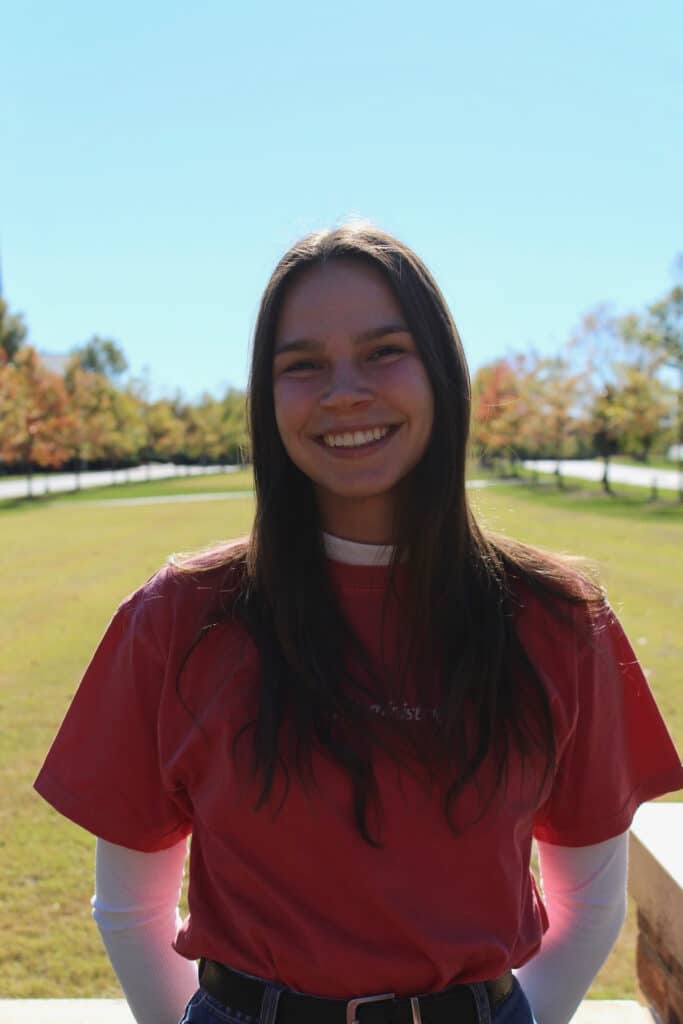 Marion Davis
Marion Davis is the Sustainability Education Intern for spring 2023. She is a senior at Furman University, where she is majoring in Sustainability Science and Communication Studies on the Media Studies track. She believes that sustainability is a form of empowerment, and is passionate about equipping communities to build a sustainable future.
Available Positions at Sustaining Way
---
Come and join the Sustaining Way Team! Below are the current openings – you can always browse them on the Careers page of our website and apply through the Indeed job posting.
VISTA Leader (Impact and Growth). The VISTA Leader will serve as a leader to our VISTA members and will help Sustaining Way prepare for growth by finalizing its VISTA model.
Sustainable Energy VISTA. The Energy VISTA will help improve Sustaining Way's efficiency and effectiveness in energy-related programs in Nicholtown and other marginalized communities. The VISTA project will accomplish this by increasing resident participation in the Energy Home Visit (EHV) programs and activities, developing and implementing energy-related impact measures, developing and organizing processes and procedures for SW energy programs, increasing energy efficiency educational offerings, and increasing volunteer engagement in energy efficiency related initiatives.
Upcoming openings: Community Health VISTA
---
Program and Community Updates
---
In the months of December and January we started community outreach to remind the Nicholtown residents about the results of our "Baseline Survey," which confirmed and quantified some of the basic needs in our community. Alongside our partners, we are addressing the results the residents showed most concern for and have been conducting several meetings with the community to discuss the survey. Some of the areas of focus are mental and physical health, home energy relief, and food security. We are also emphasizing our Energy Home Visits (EHV) program this year, which is free for those who qualify (you can learn more about them and sign up at this link). Our most recent participant in the program saw a 56% reduction in her power bills. In 2023, we will be hiring a Sustainable Energy VISTA and partnering with Furman University's Shi Institute to expand the program to more homes in the community.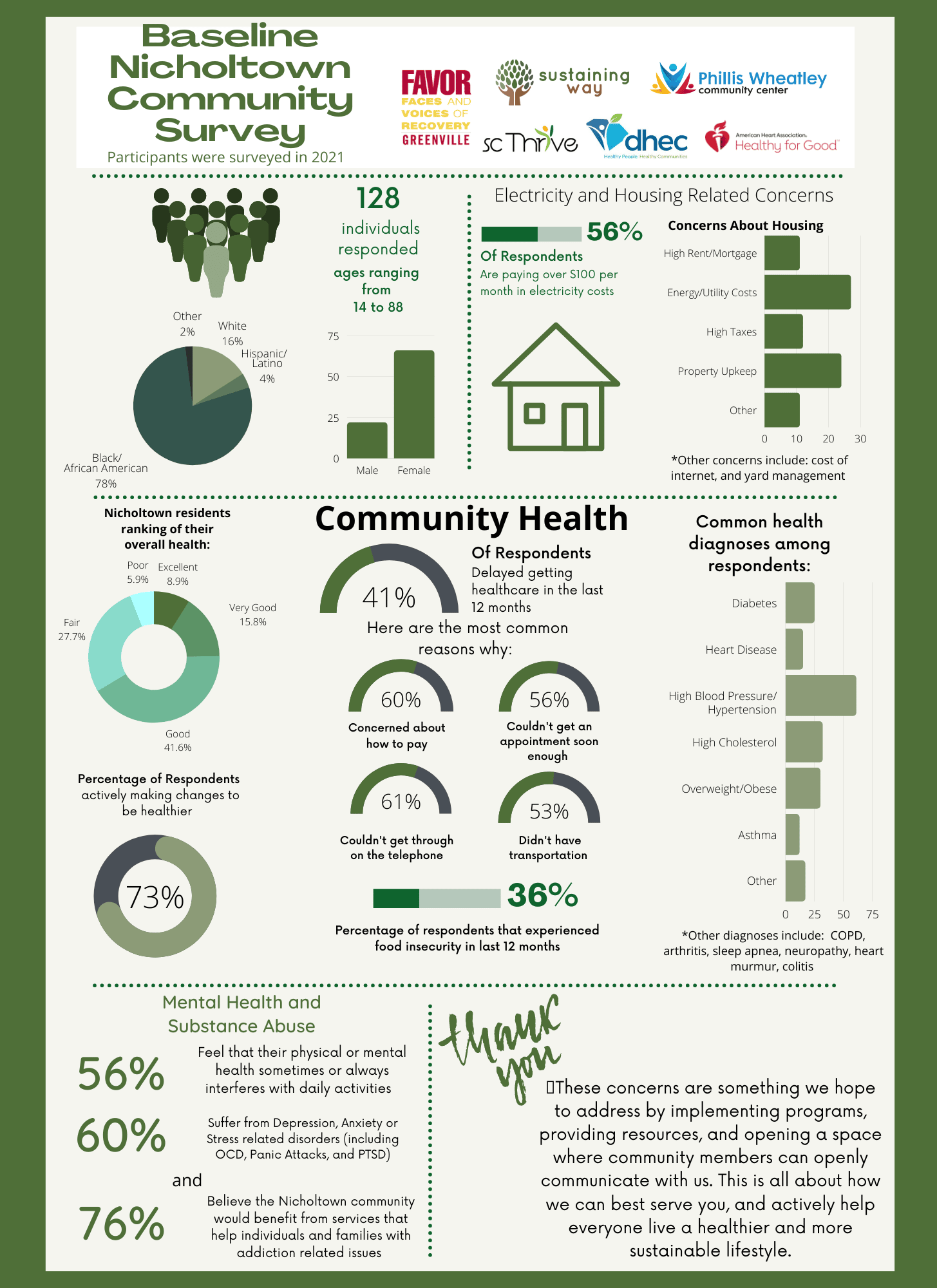 ---
Our new Food Security and Agriculture VISTA has been meeting up with our Backyard Garden participants to consult on any present needs of their gardens. Pictured is one of the participants and our youngest garden consultant.

Remember that you can always sign up for a backyard garden consultation and installation; it is free for those who qualify. Visit this link or explore our website to learn more!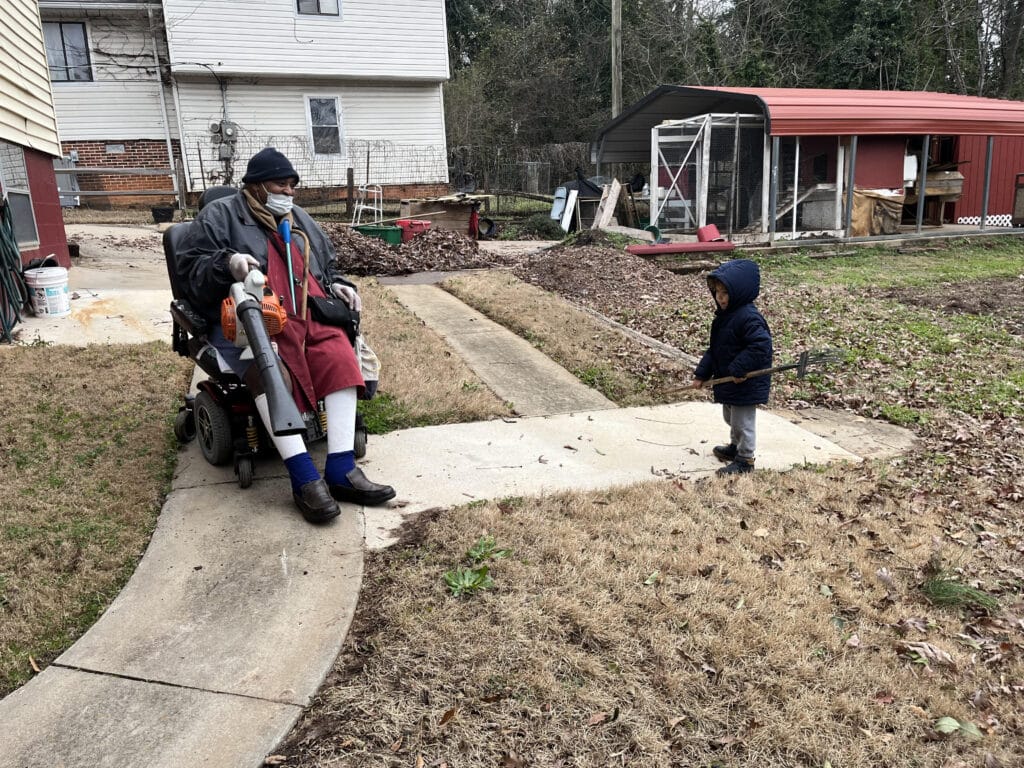 ---
Our first big community event of the year was our Martin Luther King Jr. day of service in the Annie's House garden. Among individual volunteers, we also had the Furman Women's Lacrosse team, a local Nicholtown Barber (GroomGods) and his family, and some folks from General Electric who brought their family. Everyone worked to prepare the garden for the spring planting season and help beautify it after some recent weather-induced displacement.
We also received an abundance of garden support from Greenville Tech Charter High School on January 20th. These students worked in the Annie's House garden to further prepare it for the spring planting season.

---
Each week, we have been visiting the Nicholtown Community Center's after school program and teaching mini-lessons about sustainability to the students. This month, we were able to host the students on-site at Annie's House one week. The students learned about how to connect with our environment and had the opportunity to help Oscar, our Engagement Coordinator, out in the garden. 

---
We also had our two new Steward Leaders, Blake Grant and Lily Flores, start in the beginning of January. Blake and Lily will be assisting Sustaining Way with community projects and will eventually receive career mentoring from a SW partner in their field of interest.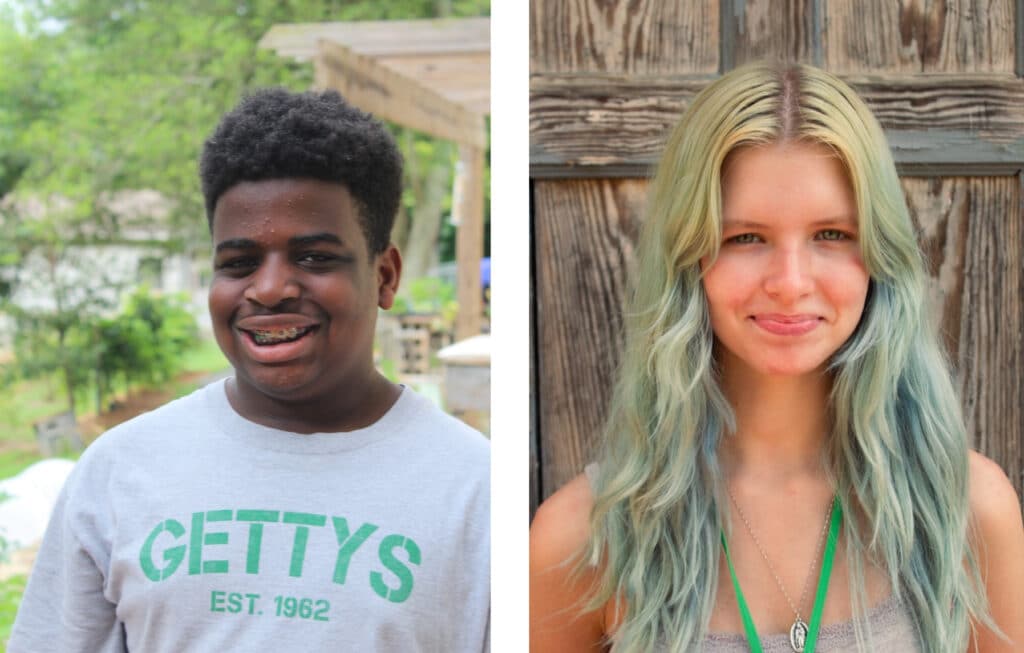 ---
Volunteer Opportunities and Giveaways
---
We deeply appreciate all of our volunteers at Sustaining Way and cannot thank them enough for coming to our various events. Looking to volunteer with us? Check out the new volunteer page on our website to explore all of the ways that you can get involved. We offer many opportunities to get your hands dirty and make a difference in the community.
We hold Garden Work and Learns every Tuesday from 3:00-5:00 p.m., Wednesday from 4:00-5:30 p.m., and Friday from 9:00-10:30 a.m. at Annie's House. (Note that these times are different than the Work and Learn times in the fall due to daylight savings time. Additionally, they are always weather-dependent.) These are excellent opportunities to volunteer in the Annie's House garden while also getting all your gardening, composting, and sustainability questions answered by our amazing staff. We also hold monthly Service Days on the 3rd Saturday of each month from 10:00 a.m.-12:00 p.m. Volunteers are always welcome at any of our events. We hope to see you in the garden soon!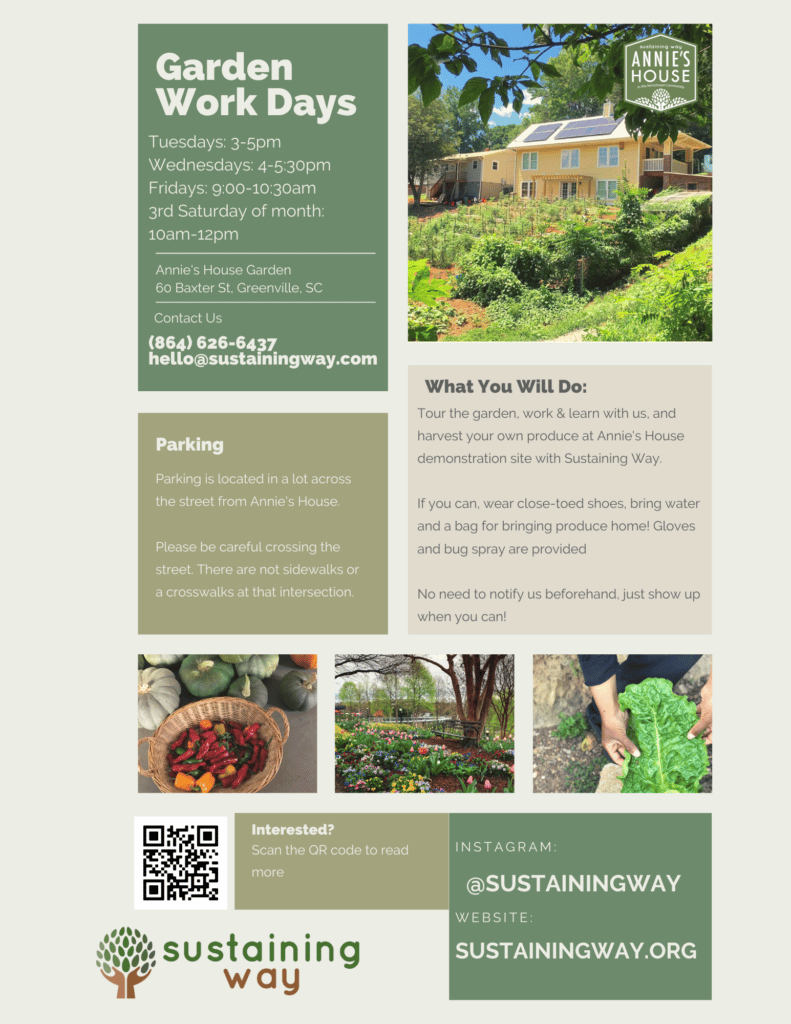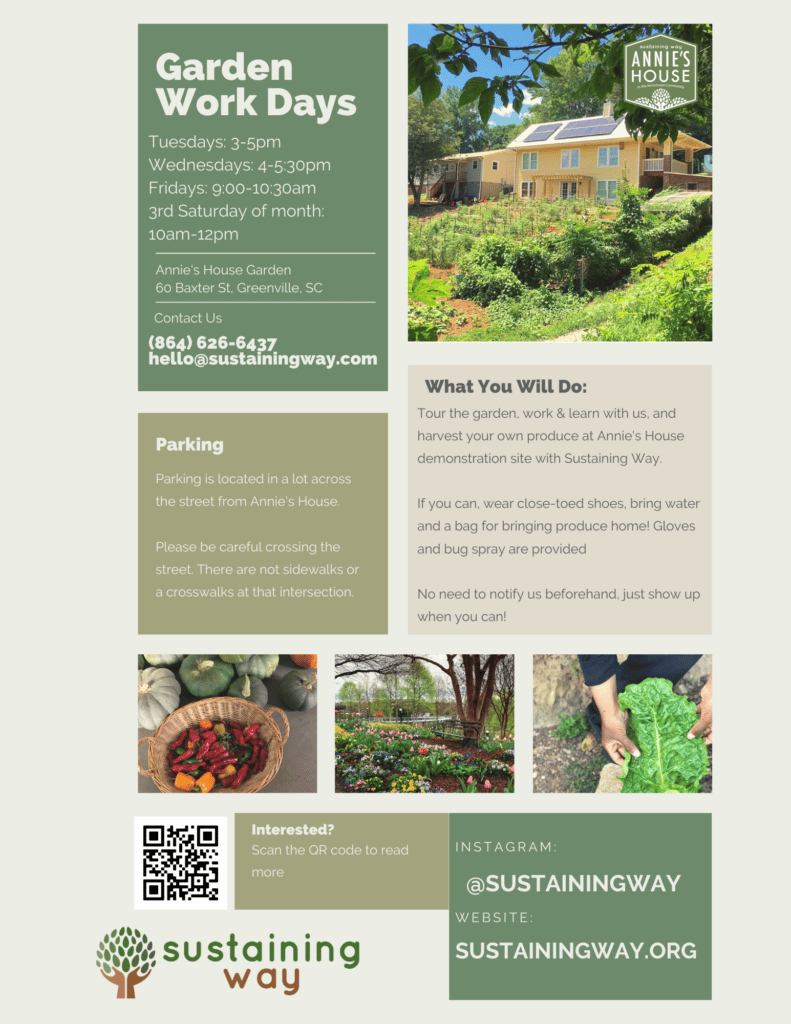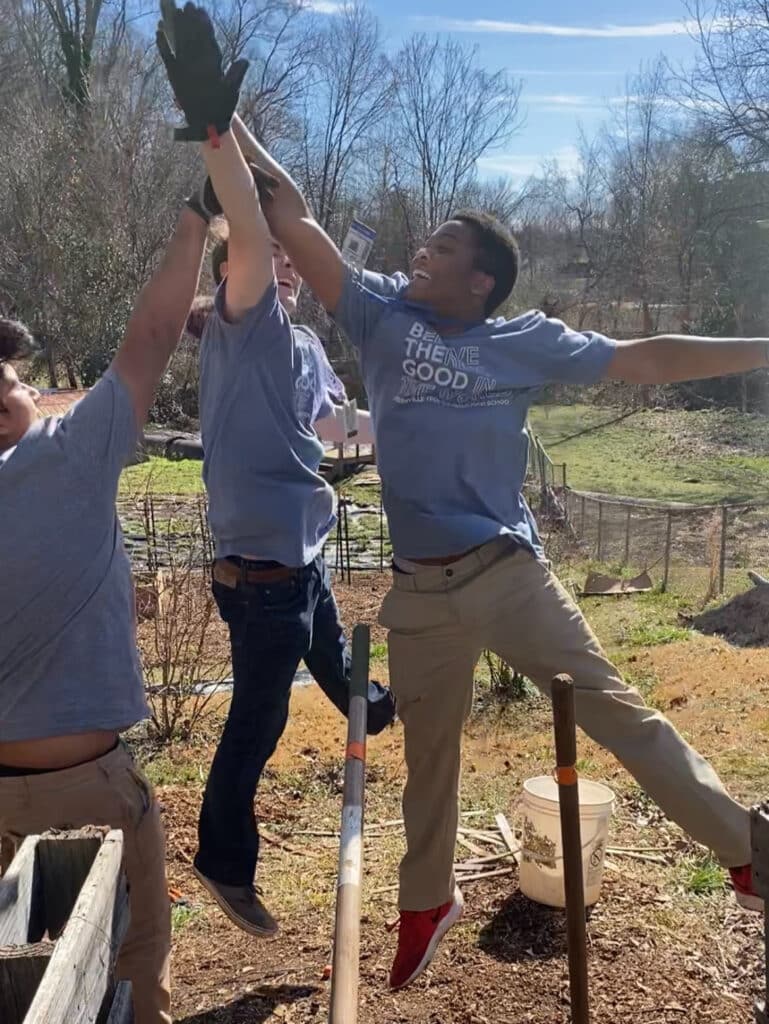 We hold additional virtual/remote volunteer opportunities if you are not located in the area or if gardening isn't your thing. Our volunteer interest form contains all of the categories of opportunities that we offer.
Volunteer of the Month:
Each month, we enter all of our volunteers from that month into a randomized raffle for gifts generously donated by local businesses. Our most recent winners are Tiffanie (in November) and Meredith (in December)! Tiffanie is a new volunteer to Sustaining Way but has already come out to volunteer for multiple garden work days after volunteer onboarding with us. Meredith organized for her school's Beta Club group to come out to volunteer with us as part of their project on helping the environment. They saw this as a great opportunity to learn about sustainability and help out the community. We appreciate the time these ladies have spent volunteering with us and are proud to give them some generously donated tokens of our thankfulness. Tiffanie received Swamp Rabbit Tree Co. merchandise and Meredith will be receiving a gift card to Starbucks.

Do you want to win a volunteer prize? All you have to do is come out to volunteer with us to be entered into our monthly randomized raffle! We'd always love to have you!
---
Become a Sustainer Today!
Become a Sustainer of Sustaining Way! By giving any monthly amount, whether $5 or $500, you will be providing essential support for our life-changing programs, and provide us consistent income so we can better focus our efforts on our mission. These monthly donations make a huge difference to us and can gain you benefits like a produce card to use at our garden on site, reusable and sustainable goodies, or even a free energy home visit!
---
We always appreciate any donations, and similar to monthly sustainer donations, any donation amount helps to back our programs and initiatives, and ultimately our mission to use education, collaboration and advocacy to create sustainable, caring, and equitable communities for current and future generations.
---
If you ever want quick access to important links, you can visit this page to find all of them. Our website is also always home to everything, and very easy to navigate.
---
Follow us on:
Please write a review and/or follow us on social media. Please feel free to
like, comment, and share our posts and upcoming events.