Demonstration Site
"Annie's House"
Located at 60 Baxter Street in the Nicholtown Community, Annie's House is an interfaith initiative demonstrating the feasibility and benefits of living more simply and sustainably. Bordering the Swamp Rabbit Trail and just minutes from downtown Greenville, Annie's House is passed by over half a million people annually, making it an ideal location for maximum impact. Food and energy costs create a burden that reduces the ability for low-income individuals to break out of poverty. Annie's House seeks to leverage its more than 60 partners to help break the cycle of poverty and progress Nicholtown to be a more sustainable community.
Annie's House was built in partnership with Genesis Homes and completed in early 2015 to be a model of an affordable, highly efficient home. The home and grounds serve as an education center and demonstration site as well as a base of operations for Sustaining Way. It is regularly visited by the public to develop the community's knowledge about sustainability. We educate, demonstrate, and advocate to develop individuals and the community in 6 areas of sustainability: Food and Landscape, Energy and Energy Efficiency, Consumption and Waste, Healthy Lifestyles, Environmental Sustainability, and Social Sustainability.
Some of the current sustainable practices demonstrated on-site include:
COVID-19 Response- Meals and Mask Distribution
Sustaining Way is meeting the needs of food-insecure community members. We partner with local farms and community organizations to provide hot meals, frozen meals, fresh produce and PPE. Seniors and any other residents are able to receive this essential food every Thursday from 12:30-1:30 p.m. We hope by providing healthy food and masks will alleviate some of the stress on the Nicholtown community.
Community Coordinator Program
The coordinator is a paid full-time rotating development position that lives at Annie's House and works with our various partners to serve as community coordinator/advocate, lead community programs, and demonstrate the feasibility and benefits of living more simply and sustainably. During their time at Annie's House, the coordinator develops relationships with residents and works to understand and meet community needs in a sustainable manner. They do this either through direct support or by connecting residents and community organizations to other nonprofits and partners. Through this work and our professional development program, the coordinator develops the skills and confidence necessary to leave the program and go out to serve as a leader within the community.
The Steward Youth Program employs a multi-tiered strategy aimed at reaching a variety of youth at different interest and commitment levels. First, the Steward Education Program provides sustainability and leadership curriculum for k-12 classes and out-of-school time programs. The Steward Fellowship Program provides civic and paid workforce development opportunities for high school age youth at Annie's House and within the surrounding community. Finally, the Steward Leader Program is an intensive year-round program that provides hands-on education to selected youth that have a passion for sustainable community development and desire to drive change in their community. Curriculum in each of these programs is focused in six different areas of sustainability: Energy, Consumption and Waste, Food and Landscape, Social Sustainability, Environmental Sustainability, and Healthy Lifestyles.
Sustaining Way has launched a Backyard Garden Program to increase local, fresh food access in Nicholtown. Backyard gardens can address accessibility and affordability concerns related to healthful, seasonal, and culturally significant foods. Backyard gardens provide opportunities for individuals to learn about agroecological practices, such as native or climate-adapted and perennial planting, natural pest control, composting, rain barrel catchment, crop rotation and cover cropping. Through a living classroom of a backyard garden, individuals are able to learn experientially about how their food grows and understand the environmental benefits of a more localized food system. Individuals also can attend Gardening Workshops that will supplement their learning and connect them to other participants. This network of Backyard Garden participants will foster a culture of sustainable gardening in the community. There are currently 10 households participating in this program.
Interested in sponsoring a backyard garden or providing program resources (ex: soil, organic fertilizer, seeds, plants, carpentry skills, tools, labor, gardening education, etc.)?
Please email danielle.parks@sustainingway.com for more information.
Gardening Workshop Topics
General Gardening Resources
Join us for our monthly open house events on issues that are important to the Nicholtown community. We find experts and other voices from the community to provide an insightful, educational, and engaging experience.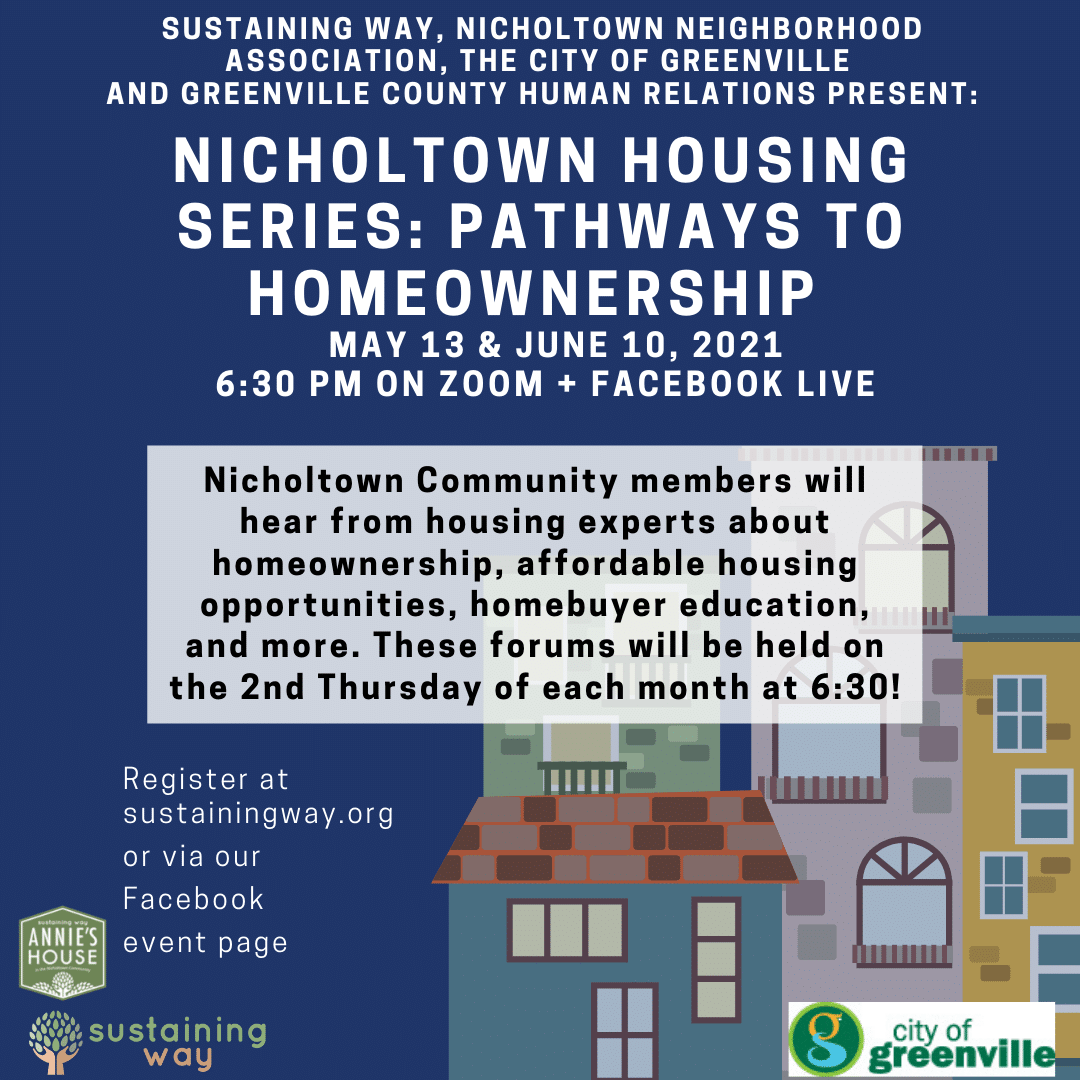 Energy Home Visit Program
In 2019, we weatherized over 1,000 homes in Nicholtown and held multiple energy efficiency workshops. We executed this in partnership with Duke Energy, City of Greenville, Community Conservation Corp and the Nicholtown Neighborhood Association. Sustaining Way launched the Energy Home Visit Program in early 2020 to build on our previous energy efficiency work. This program offers free energy efficiency evaluations of Nicholtown residents homes while providing practical actions and tips for homeowners to lower their energy bills. In addition to the valuable energy efficiency education and basic upgrades, residents are connected to other resources needed to address existing energy issues.
Future Programs (under development/consideration)
Sustaining Way plans to provide the education, mentorship, and resources needed for residents in Nicholtown to grow more of their own food. The broader purpose of this project is to eliminate food insecurity and health challenges by improving access to affordable, nutritious foods in Nicholtown.
Annie's House Concept Proliferation
Sustaining Way is currently in the planning stages to proliferate the Annie's House concept to other underserved communities throughout the state of South Carolina and beyond.