Annie's House by Sustaining Way
60 Baxter Street
Greenville, SC 29607
Sustaining Way is a registered 501(c)(3) nonprofit. All donations are tax-deductible. Thank you for your support in helping us create more sustainable, caring, and equitable communities.
Making Your Donation Go Far!
Sustaining Way seeks to truly steward your investment in us. In recognition of our efforts to efficiently serve the local community, Sustaining Way was one of only ten nonprofits honored with the "Angel Award" in 2019 by the South Carolina Secretary of State.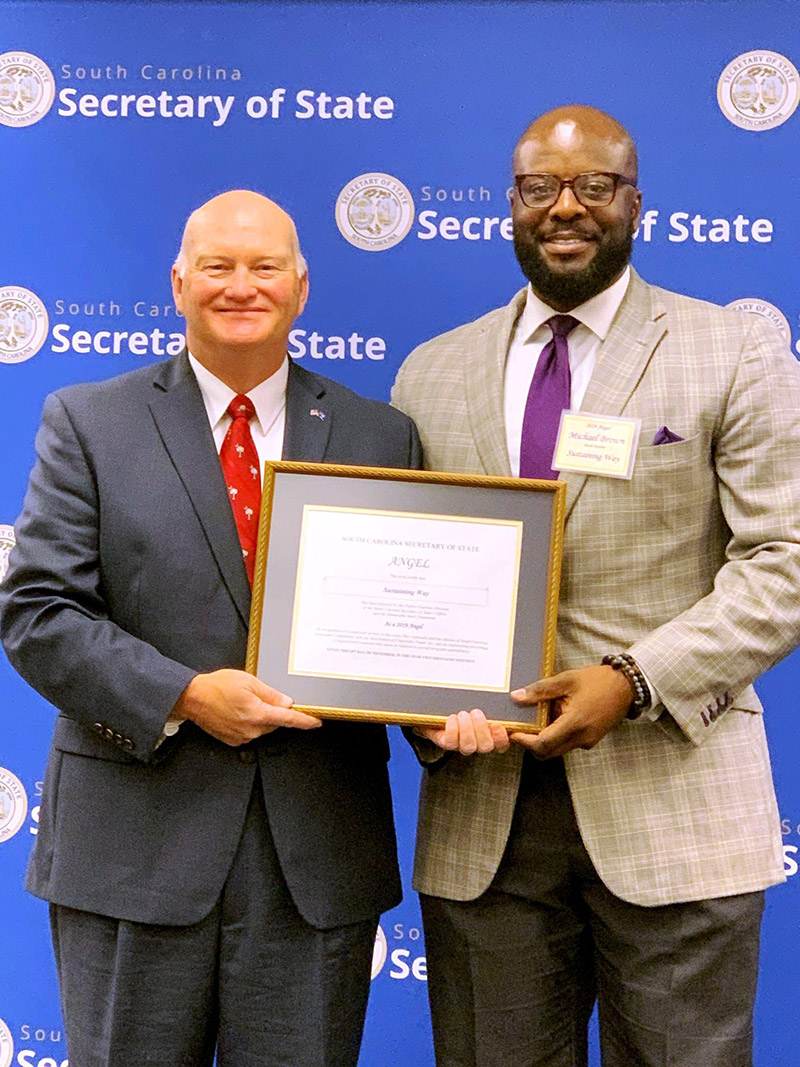 Executive Director Michael Brown with Secretary of State Mark Hammond
We believe that sustainability starts with the purposeful inclusion of all people in solidarity and mutuality. Inclusion is essential to building just relationships among ourselves as we shape our collective future. This may require slowing things down to allow space for civil dialogue, but this is vital to cultivating a just and equitable society that is resilient and enduring.
We believe in the power of faith to catalyze people to make changes for the common good. Because of this, we work as an interfaith organization. We celebrate and embrace all faiths and non-faiths that center on love and compassion for others.
All of our work is in an effort to care for people and the planet. We understand the urgency to address the challenges that face us. Therefore, we are committed to taking bold action and sustained effort every day to accomplish our mission with the knowledge that lives are on the line.
Committing to Integrity & Truth
Integrity is the foundation on which we build trust and just relationships. We are committed to sound moral and ethical principles. We do everything possible to live up to the commitments we have made. We make our decisions based on facts and research. We seek and expect excellence in ourselves and in how we interact with each other.
Addressing Race, Equity & Justice
Until all people thrive, no society can claim to be just and equitable. We recognize that structural racism is embedded as normal practice within every system in American society. We must continually seek to understand our own prejudices and advocate for equity, inclusion and justice in all of our systems.