September/October Newsletter
What's New With Sustaining Way?
We continue to grow the capacity to support our ambitious strategic plan that will expand our model throughout the Southeast, creating a network of communities working together to educate, collaborate, and advocate for a sustainable and equitable future.
Fernanda Rabago has transitioned from Operations Intern to serve full-time as Operations Coordinator. This will provide Sustaining Way critical operational leadership to ensure the efficiency and effectiveness of our community programs and activities.
Additionally, we are excited to have been selected as an AmeriCorps VISTA host. We have welcomed our first VISTAs – Sydney Spires as Marketing and Development VISTA and Meghan Salm as Adult and Youth Development VISTA. We have also been approved for and are currently recruiting two additional VISTAs: one focused on food security and agriculture and one on community engagement. By early 2023, we plan to hire four more VISTAs that will focus on addressing energy burdens, community health, and growth and model proliferation.
---
Meet Our Newest Staff Members!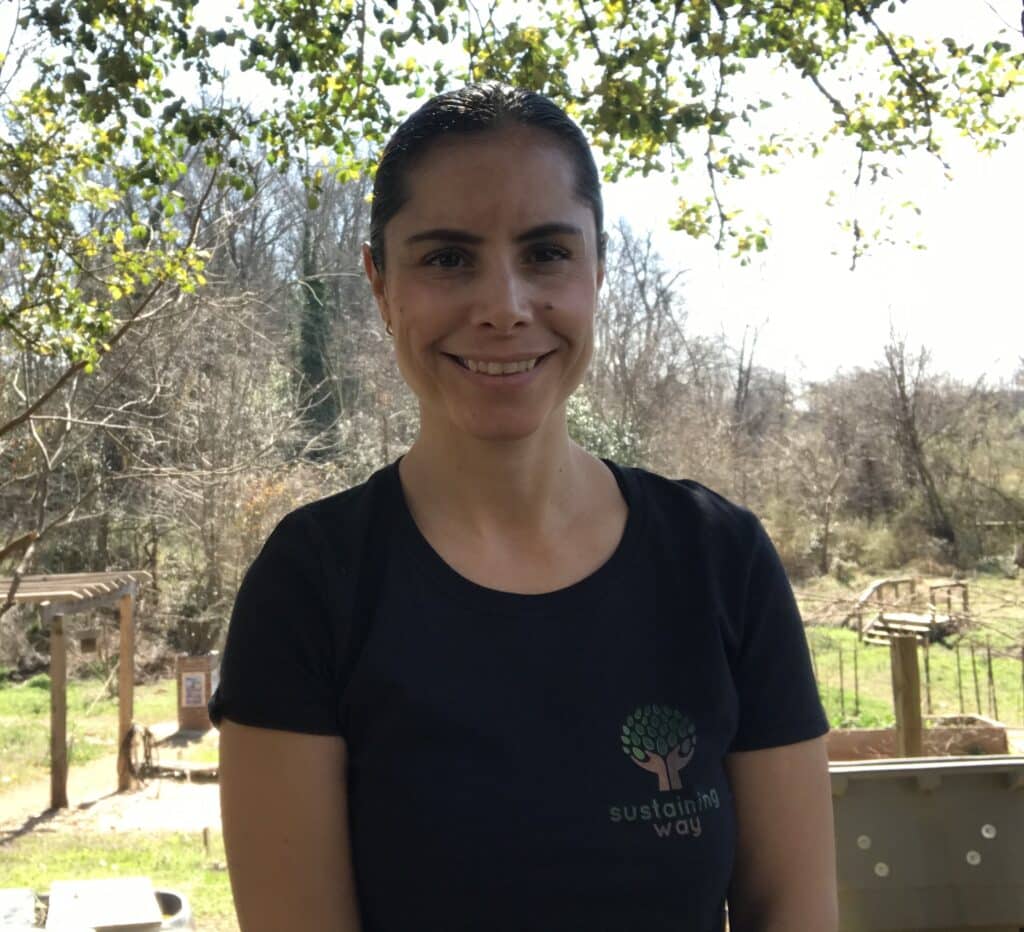 Fernanda Rabago
Fernanda initially joined Sustaining Way as an Operations Intern in early 2022 and was recently promoted to serve as our Operations Coordinator. Originally from Mexico, Fernanda holds a degree in Industrial Engineering. She is a passionate advocate for healthy lifestyles and caring for the environment which led her to seek a position with Sustaining Way.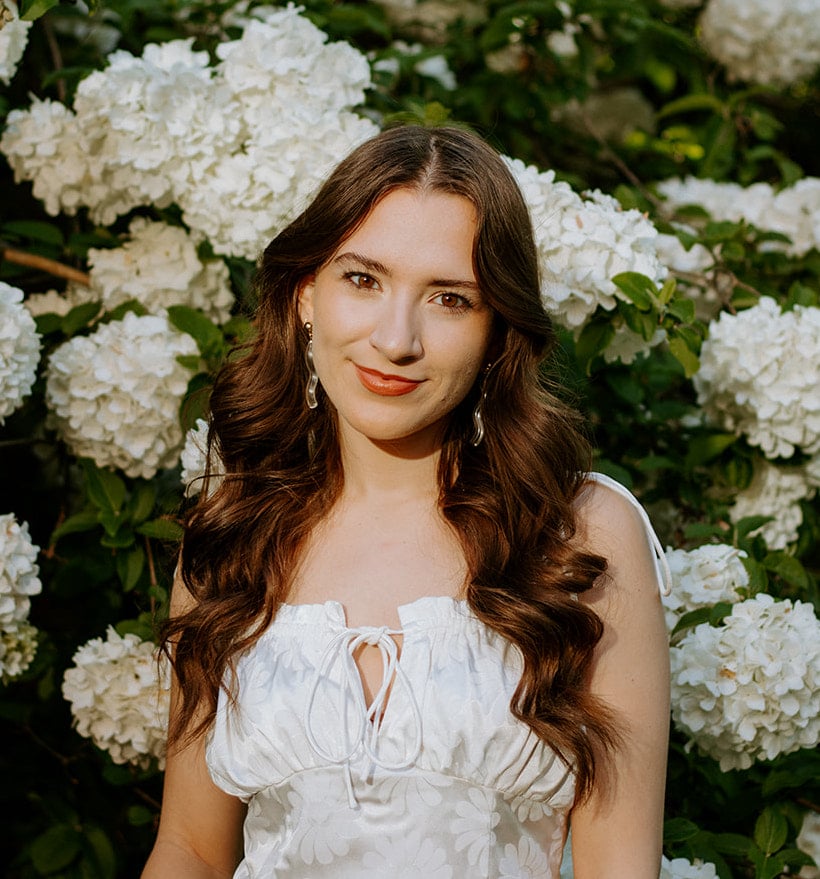 Meghan Salm
Meghan is the AmeriCorps Youth and Adult Development VISTA member at Sustaining Way for the 2022-2023 circuit. She graduated from Furman University with a B.S. in Sustainability Science and a minor in Poverty Studies. She believes a sustainable future starts with uplifting and empowering marginalized communities first. This has led to her passion for local-level sustainable development, environmental justice, and community empowerment.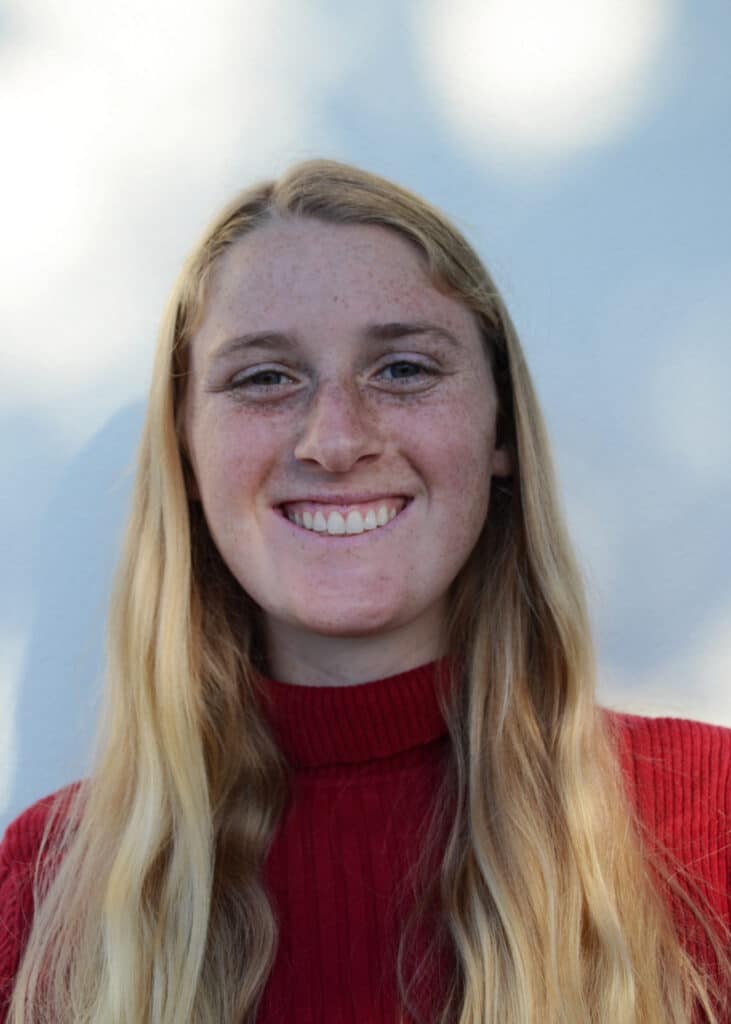 Sydney Spires
Sydney is the AmeriCorps Marketing and Development VISTA member at Sustaining Way for the 2022-2023 circuit. She graduated from Furman University with a B.S. in Sustainability Science, B.A. in English Literature, and a minor in Women's, Gender, and Sexuality Studies. She is passionate about social and environmental justice and believes that everyone deserves equitable access and opportunity to live a healthy and sustainable lifestyle.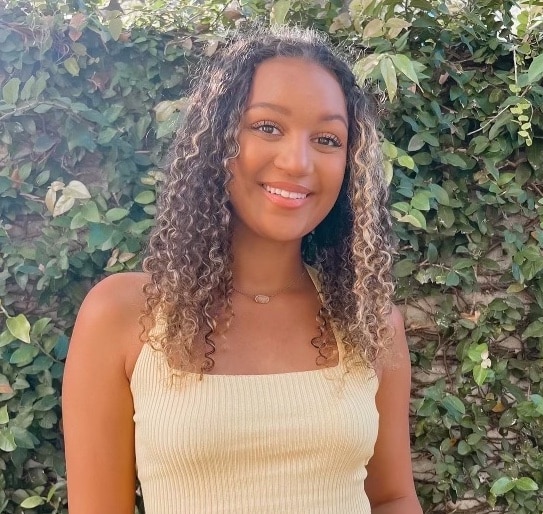 Eva Brown
Eva is the lead marketing and engagement intern for the fall of 2022. She is currently a senior at Stetson University majoring in Marketing with a minor in Sales. She believes a sustainable future starts with educating communities. She believes in the great potential of Sustaining Way to branch out and keep reaching new heights. Her passion lies in promoting and engaging all of Sustaining Way's contributors and followers on virtual platforms, and extending its reach toward more community members.
---
Available Positions at Sustaining Way
---
Come and join the Sustaining Way Team! Below are the current openings – you can apply through the Indeed job posting.
Food Security and Agriculture VISTA .The goal of this position is to help improve Sustaining Way's efficiency and effectiveness in addressing food insecurity and access to and consumption of healthy food in Nicholtown and other marginalized communities.
Sustainable Agriculture Intern. The Sustainable Agriculture Intern will learn underneath and support the Sustaining Way staff in carrying out Sustaining Way's mission of empowering individuals and communities to bring about a sustainable and equitable future. This will include supporting staff in maintaining and developing our urban farm at Annie's House and our various community agriculture programs and initiatives, along with teaching youth about agriculture.
---
Program and Community Updates
---
In early August, we celebrated our Steward Fellows on their completion of our summer program! This celebration was well-deserved, as all of our Fellows worked hard all summer and earned a great achievement.

Amanda Nnonim, who was a second-year Steward Leader, reflected on her experience and commented, "I was able to dive more into sustainability all while bonding with amazing Steward Fellows. As they learned, I also broadened my horizon in the world of sustainability. I am very glad I joined this program."

Each Fellow received a certificate of completion and a superlative, and they all had a chance to speak on their experience with the program as well as what sustainability means to them. We also heard from our Executive Director, Michael Brown, and our Board Chair, Sylvia Palmer. After the ceremony, everyone enjoyed lunch in good company. We can't wait to celebrate our 2023 Fellows!
---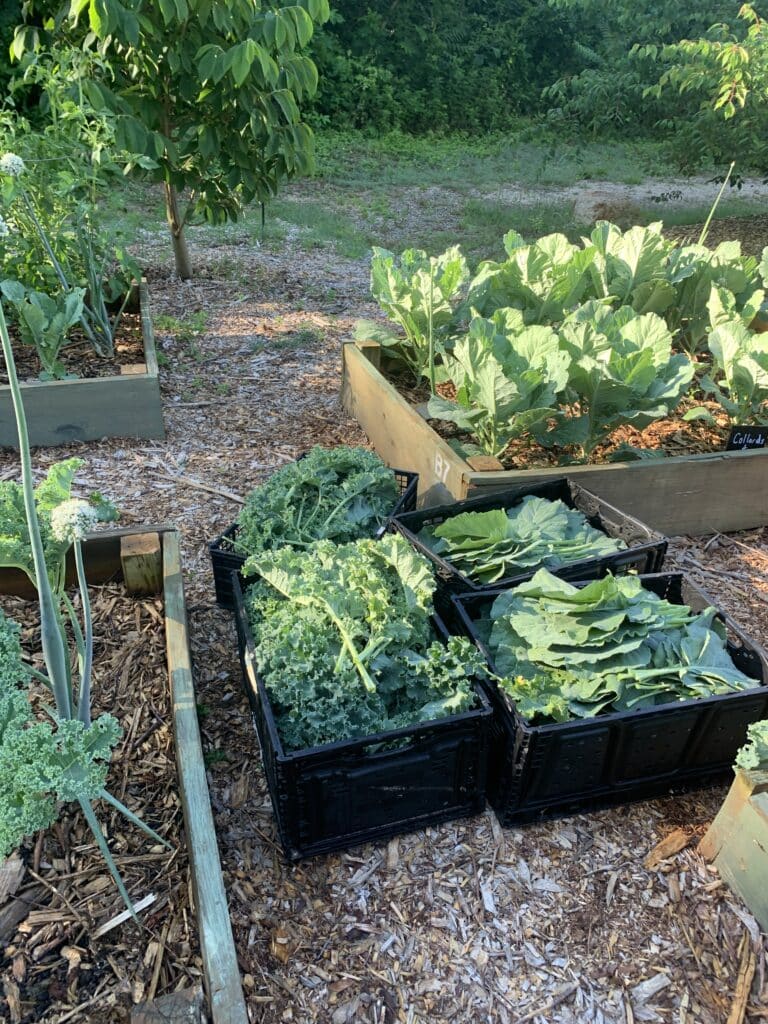 Garden update from Sydney C., our Sustainable Agriculture Intern:
In the last few weeks, we have been planting seeds and transplants for our fall garden with our volunteers. We are currently growing collard greens, kale, cabbage, broccoli, brussel sprouts, beets, carrots, onions, and mustard greens. We are looking forward to our cool weather crops being ready for harvest around November.
---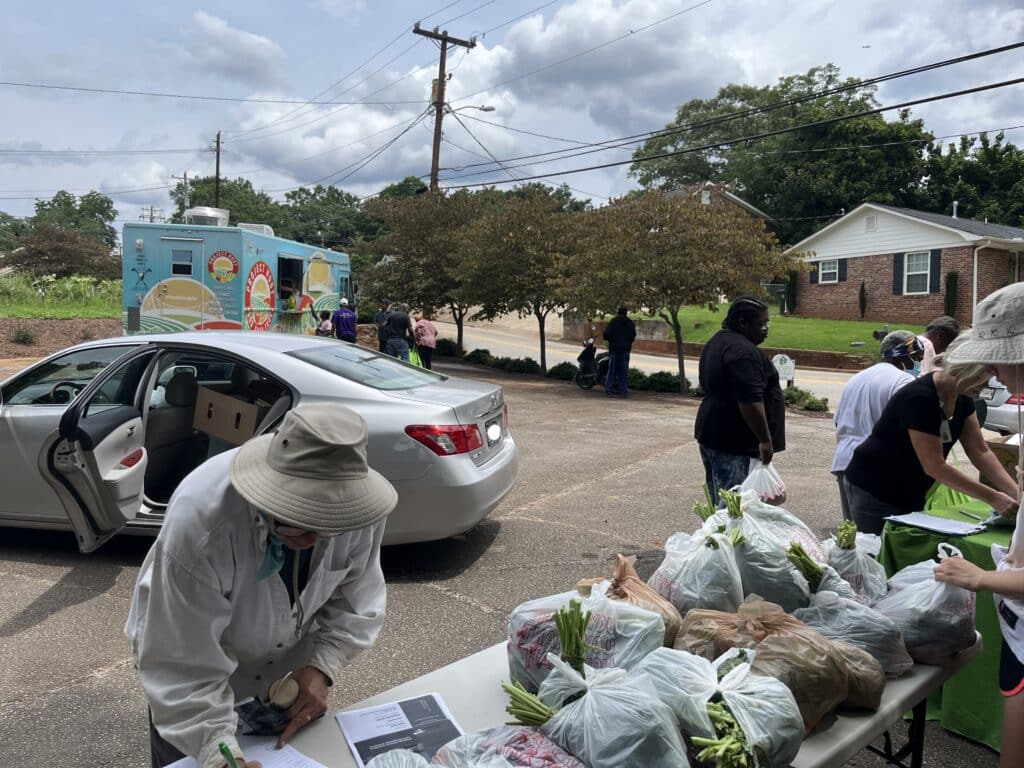 Program updates from Oscar, our Engagement Coordinator
Meals and Masks is one of our most far-reaching programs in the community. Every week we partner with Project Host, a non-profit soup kitchen, to hand out bagged lunches and fresh fruits and veggies to over one hundred residents in the Nicholtown community. There continues to be a great need in the area for healthy and consistent food for many residents, and we are working with everyone we can to meet that need.
We have recently started our Energy Home Visit program back up since being restricted by COVID, and have most recently updated Ms. Byers' family home right up the road from Annie's House. Not only did we work with her on sealing up any gaps, replacing filters, and educating her on energy use, we also discovered her solar panels were not working. We looked into the company and found out they were a scam organization that has people pay more than they should and then leaves them high and dry. We contacted Mr. Wilson who is a solar panel specialist at Greenville Tech to see if we could work together to get her panels up and running. We got her panels going again and we are working on a narrative to inform residents of situations like Ms. Byers' and how to go about getting panels if you are interested.
Sustaining Way is working with several other residents in the community to complete the initial pre-work for the Energy Home Visit to educate as much of the community as possible on energy efficiency. We also want to inform people about our Backyard Garden program in which we set up gardens for residents for free and help them become Backyard Farmers in their own right.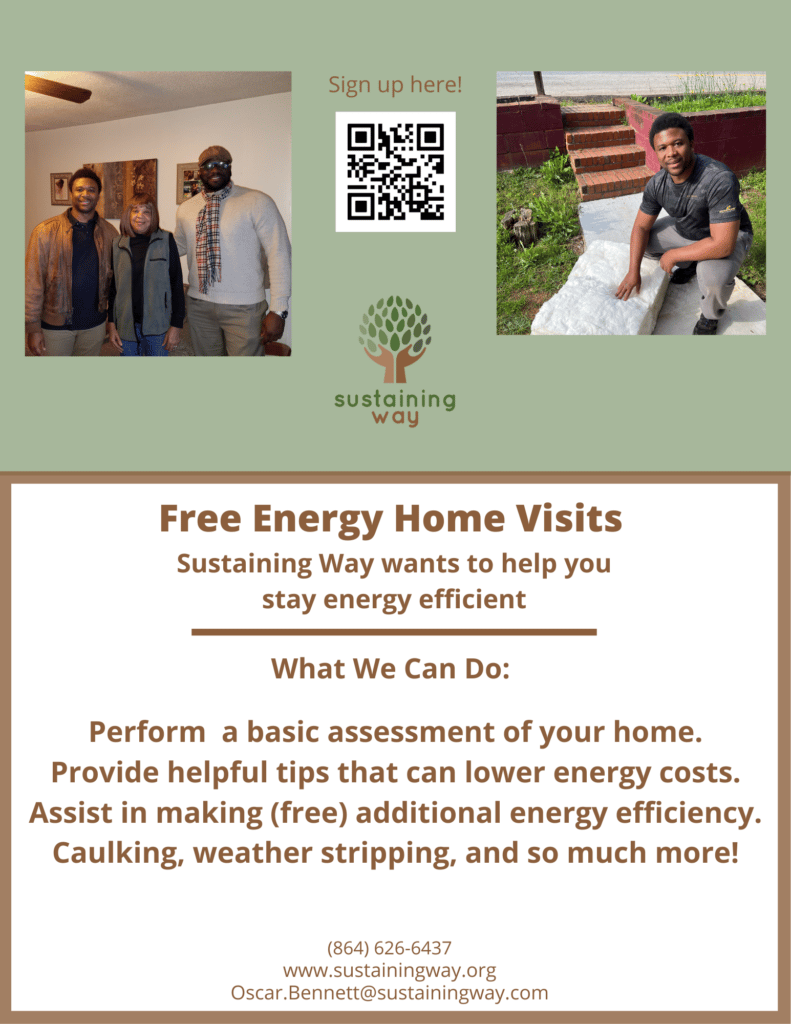 ---
Volunteer Opportunities and Giveaways
---
We deeply appreciate all of our volunteers at Sustaining Way and cannot thank you enough for coming to our various events. Looking to volunteer with us? Check out the ways that you can get involved. We offer many opportunities to get your hands dirty and make a difference in the community.
We hold Work and Learns every Tuesday from 3:00-6:00 p.m., Wednesday from 4:30-6:00 p.m., and Friday from 8:00-10:00 a.m. at Annie's House. These are excellent opportunities to volunteer in the Annie's House Garden while also getting all your gardening, composting, and sustainability questions answered by our amazing staff. We also hold Service Days every 3rd Saturday from 10:00 a.m.-12:00 p.m. Volunteers are always welcome at any of our events. See you in the garden soon!

We hold additional virtual/remote volunteer opportunities if you are not located in the area or if gardening isn't your thing. You can check these out on the volunteer interest form.
Volunteer of the Month:
We recently started doing monthly volunteer gift giveaways! Each month, we enter in all of the volunteers from that month into a randomized raffle for gifts generously donated by local businesses. Our most recent winner of the month is Nancy! She is a regular in the Annie's House garden and an amazing volunteer. We appreciate all she does for Sustaining Way and are proud to have given her a gift card and some merchandise from Swamp Rabbit Tree Co.
Do you want to win a volunteer prize? All you have to do is come out to volunteer with us! We'd always love to have you!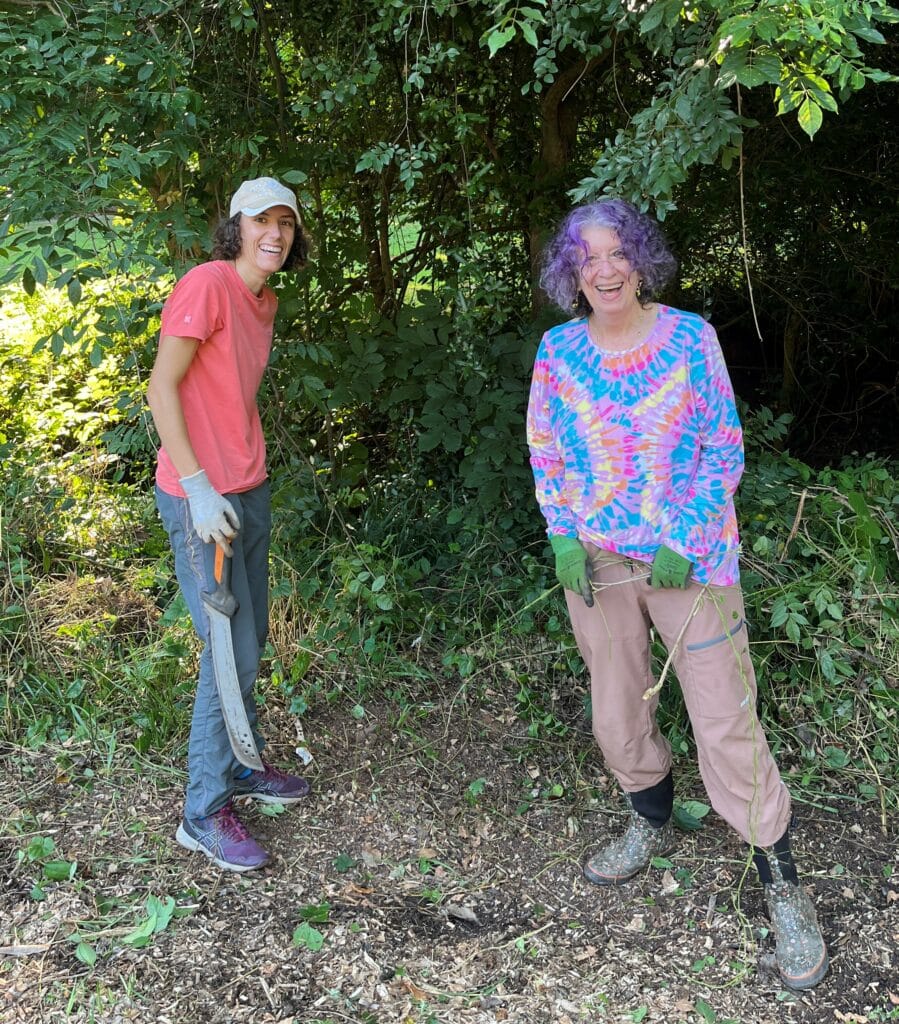 ---
Reminder to Register and Vote in This Critical Election
---
Election day: November 8th
Register to vote or get more information on voting here
Voter registration deadlines in South Carolina:
Online – Sunday, October 9th
By Mail – Tuesday, October 11th
Early voting in South Carolina:
Monday October 24th-Saturday November 5th
---
Become a Sustainer Today!
Become a Sustainer of Sustaining Way! By giving any monthly amount, whether $5 or $500, you will be providing essential support for our life-changing programs, and provide us consistent income so we can better focus our efforts on our mission. These monthly donations make a huge difference to us and can gain you benefits like a produce card to use at our garden on site, reusable and sustainable goodies, or even a free energy home visit!
---
We always appreciate any donations, and similar to monthly sustainer donations, any donation amount helps to back our programs and initiatives, and ultimately our mission to use education, collaboration and advocacy to create sustainable, caring, and equitable communities for current and future generations.
---
Follow us on:
Please write a review and/or follow us on social media. Please feel free to
like, comment, and share our posts and upcoming events.