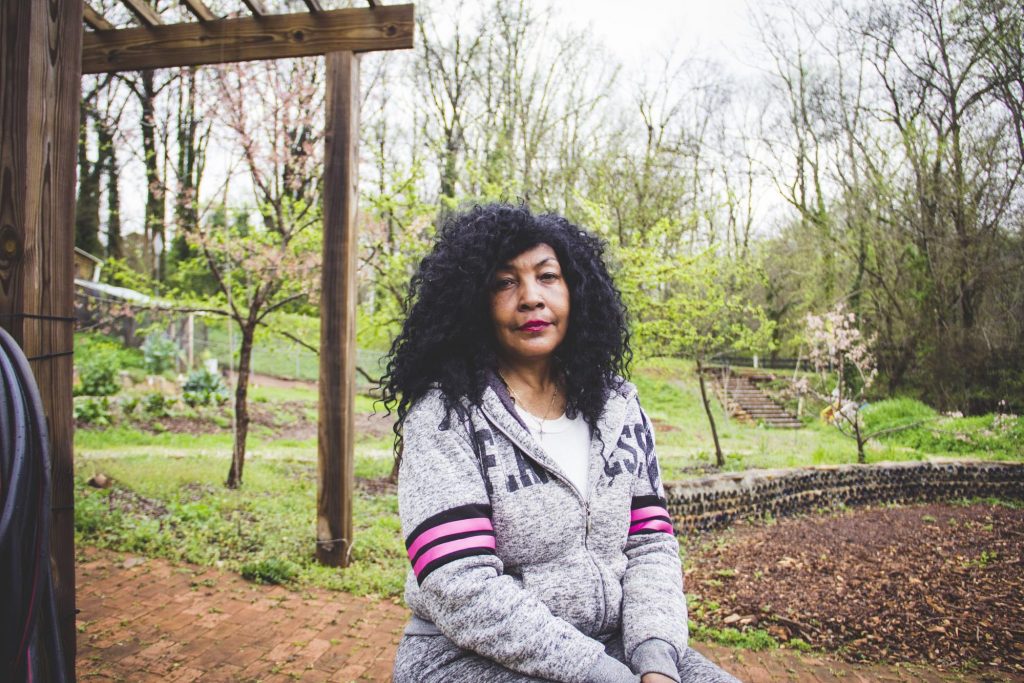 Born and raised in Nicholtown, Rhonda Young lives in a house built from her father's own two hands.
As a young girl, when she wasn't riding bikes or catching tadpoles, she would ask to help her father work on houses. She may not have known it then, but her family holds a beautifully rich history that deserves to be celebrated.
Rhonda's family was the second to live in Nicholtown. Her grandfather, Sumler Hall, acquired tracts of land, while her father helped with building. Sumler's presence is still felt in the neighborhood he helped shape: The street adjacent to Rhonda's home was named after him.
Years later, Rhonda honors her grandfather's legacy by being her own shining hero in the Nicholtown community. She is an active member of the Nicholtown Missionary Baptist Church, where she learned of Sustaining Way in 2012.
The childhood home Rhonda's late father had left in her name had fallen into disrepair over the years, and Rhonda did not have the financial means to fix it on her own. Sadly, the home had deteriorated so much that it was in danger of being condemned for being unsafe.
Almost entirely exposed to the outside elements, Rhonda had one safe corner in the living room where she could stay dry. In every room, she could look up and see the sky. "When it rained it was as if the walls were crying," she said.
The home's exposure to the elements was made worse by the unsafe wiring in the house. An open fuse box positioned directly beside the clothes in her closet was a tinderbox lying in wait, a threat to Rhonda's safety and to the neighborhood's power grid if something were to go wrong.
Warmth, too, was hard to come by. The gas company deemed her furnace and water heater to be unsafe, leaving her without heat or hot water. During the winter, she sometimes couldn't afford to keep kerosene heat on, and when she could, the smell of the fumes made her feel sick.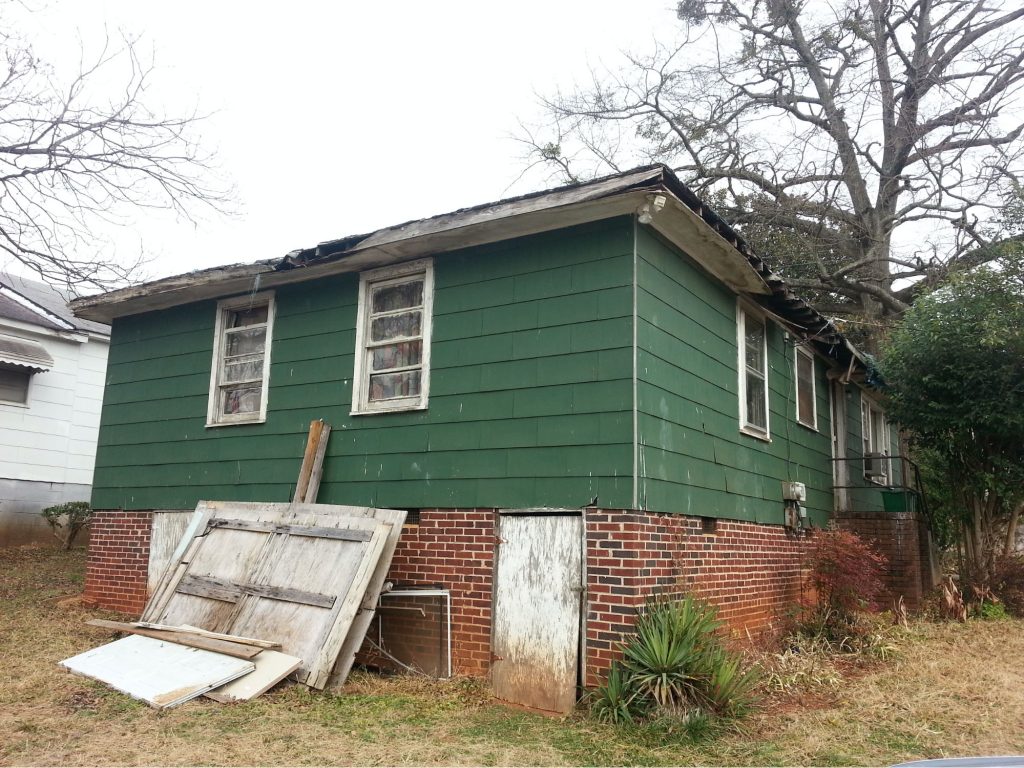 Rhonda's home from the outside prior to repairs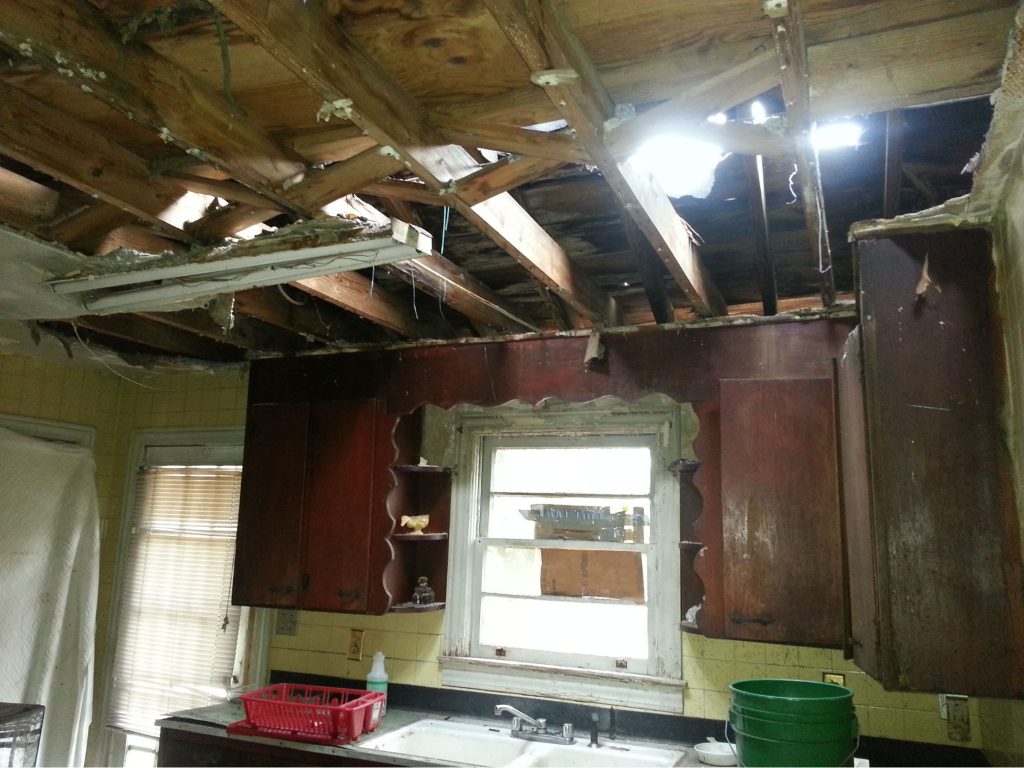 Inside Rhonda's kitchen with gaping holes along the roof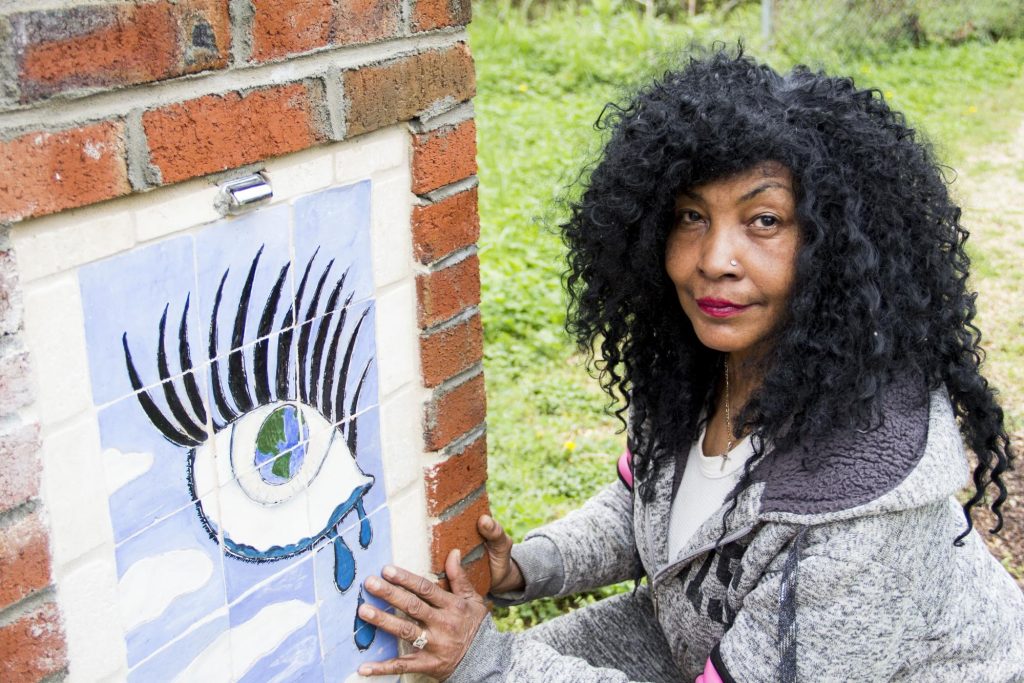 "When it rained, it was as if the walls were crying. I used to call it my camphouse because I could look up and see the sky through the ceiling."
For as many hazards as the house presented, it was still Rhonda's home, one she wasn't quick to give up on, in the neighborhood where she grew up.
"By the grace of God, I'm gonna save my dad's house," she said.
In spite of her challenging living situation, Rhonda found solace in helping others. Every time she worked on site as a volunteer or an apprentice at Annie's House, Sustaining Way's demonstration site in Nicholtown, she was able to step outside of herself and her problems. By helping others, she was giving herself the opportunity to heal.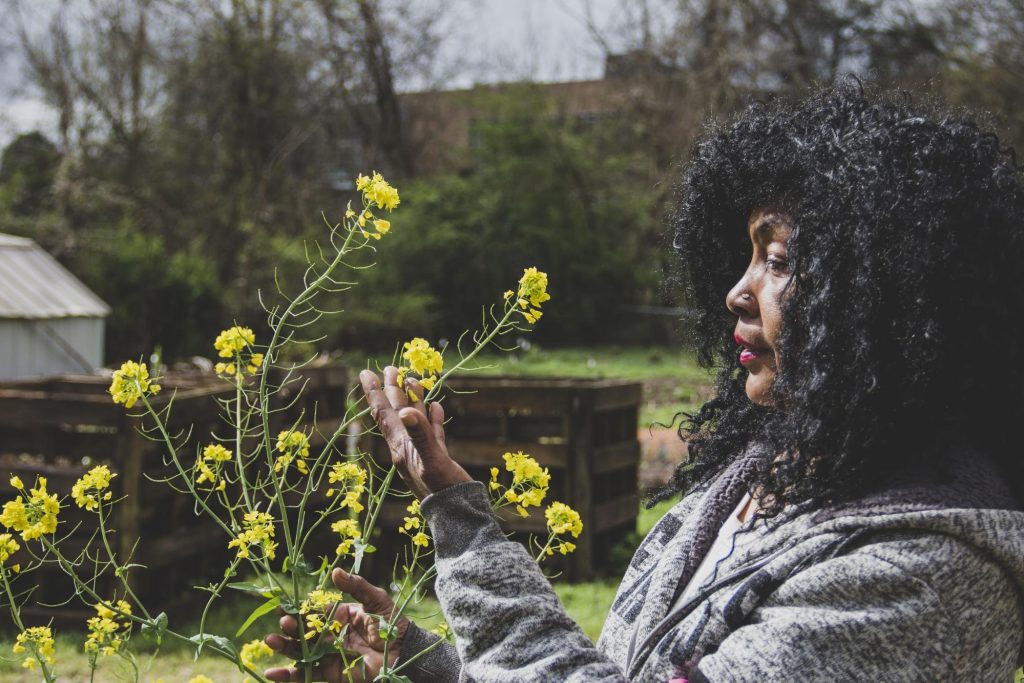 "Helping Sustaining Way got me outside of myself. I got enjoyment out of helping other people, which helped to heal me and my bad feelings about how things were going in my life."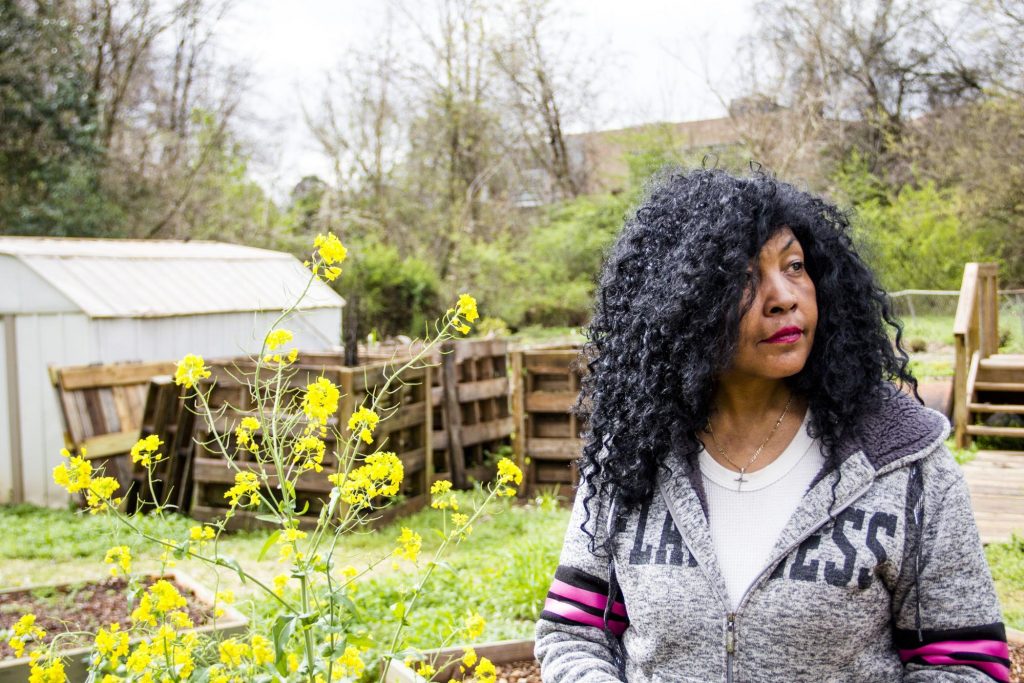 "We all serve one God. So why can't we come together and have one purpose of what we're gonna do for the neighborhood?"
In all the times she volunteered, Rhonda did not mention the condition of her home. Then, one interaction changed the course of Rhonda's future. Sustaining Way founder Rick Joye had lunch with Pastor Darian Blue of Nicholtown Missionary Baptist Church. Pastor Blue mentioned the conditions in which Rhonda was living to Rick, who immediately reached out to his community coordinator, Ricky Power. While Rhonda felt vulnerable about unveiling her home to anyone, she placed her trust in Ricky, who began to document what she was going through. Sustaining Way was thankful to have the opportunity to help Rhonda and quickly began pulling together partners to support a beloved friend in need.
By joining forces with Advent United Methodist Church and First Baptist of Greenville, Sustaining Way was able to replace Rhonda's roof. These restorations were true acts of kindness and a testament to how a community can empower its people when it bands together.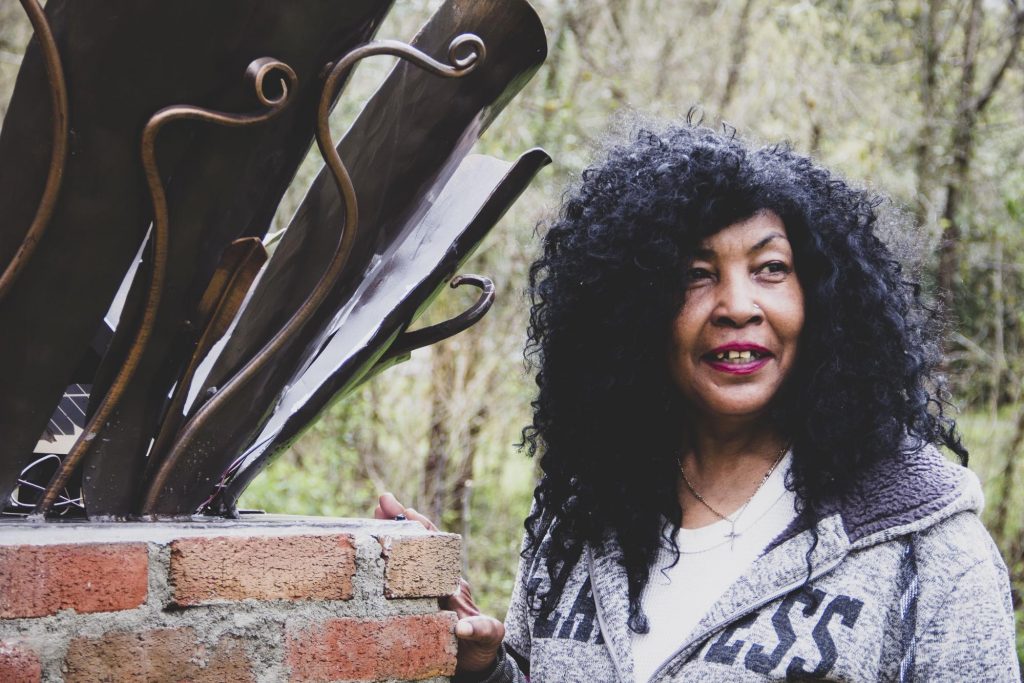 "I never will forget. It was the week of Christmas. They employed some people who were gonna get my roof on. I didn't get my hopes up — it was still unbelievable to me. But when they came out, they came out! I'm talking about people coming from Kentucky, Virginia, it was massive. I'm talking about cars around my whole block. I'm telling you, it looked like an event!"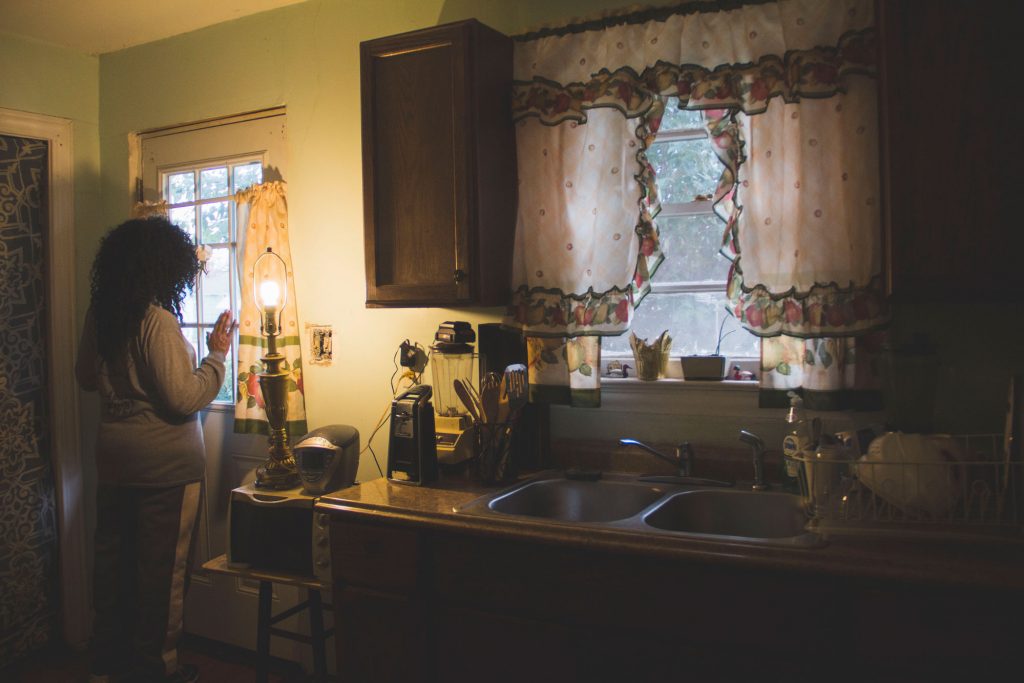 Rhonda standing in her kitchen, one of her favorite parts of her home after many repairs and new roofing
Bit by bit, Sustaining Way and its partners not only installed a new roof but also repaired the faulty wiring and rotting walls and floors, returning Rhonda's childhood home to a livable condition. In rebuilding her home — the one her father constructed all those years ago — Rhonda was able to rebuild other aspects of her life, realizing what was truly important to her. With assistance from Sustaining Way, she was also able to find stable work despite not having a reliable means of transportation. Rhonda says that learning what sustainability means starts with yourself, a mindset that carries forward when you begin to help others.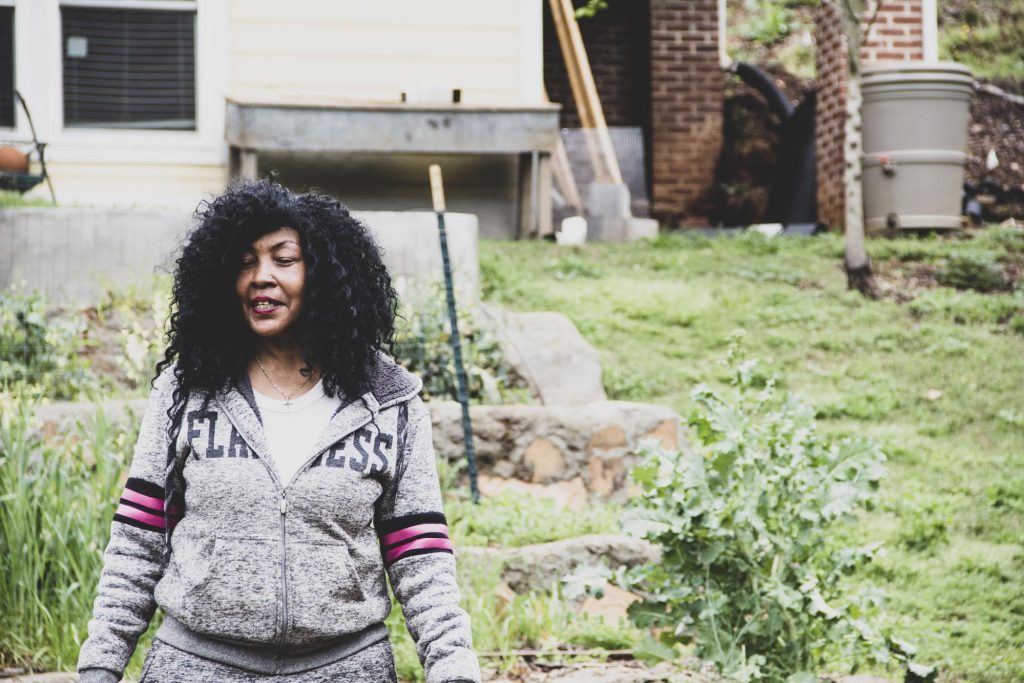 "Sustainability is a mindset. You've got to want to be sustainable. It's a work in progress in many areas. Not just to have a structure for a home. But doing what it takes to sustain yourself and your life. I learned to take care of Rhonda. I had to start with myself – that's as grassroots as it gets. I started thinking about me and my connection to the world."
Rhonda learned to stay positive and accept help during her journey with Sustaining Way, and she learned what it meant to help others in her community. Today, Rhonda remains involved with Sustaining Way and Nicholtown, giving back to the community that has given so much to her.
-Story captured by Kali Llano and edited by Katie Quine