March and April 2023 Newsletter
What's New With Sustaining Way?
As mentioned in our previous newsletter, Michael Brown and Rick Joye had the privilege of visiting South Africa in the beginning of March. Below is a message from them about this trip.
Dumela (Hello in Sesotho),
We had an amazing trip to South Africa! Our wonderful host, Princess Mapitso Rivera, the niece of Desmond Tutu, guided us throughout the country like no one else could. Our primary purpose was to better understand the challenges faced by the local communities and how we can best help in preparation for hosting Princess Masechaba later this year. We visited hospitals, schools, and neighborhoods, and met with local leaders. We saw many of the same challenges we see in our local marginalized communities (high blood pressure, heart disease, diabetes, lack of access to healthy food, and energy insecurity). Additionally, the country is burdened by high unemployment (~33%) with even higher rates for people of color. As planned, we were able to provide some much-needed supplies, including solar panels and rechargeable batteries, to two villages and a school to help improve energy security. We were also able to give out various other samples of affordable solar, battery, and lighting solutions to various community leaders we met during the trip.
There were many highlights of our trip, but one of the bigger highlights was visiting a "farm school" that served some of the most vulnerable children in the area. As we drove to the school, we saw kids walking through the fields and roads for miles to get to school early in the morning. Despite their long walks to school, the kids were all smiles to meet the "Americans" when we arrived. We gave basic essentials (e.g., toothbrushes, toothpaste, pencils) to more than 250 kids and they were received as if they were precious treasures. Later in the day, we were able to install a solar lighting system with phone charging capability in the teacher office area that will better allow the school to weather the many power outages they experience. The school principal and minister, Isaiah, who works tirelessly with his staff to educate the kids under extremely difficult circumstances, said that "this would help us better educate our children." We are so thankful we were able to make a difference in the lives of those we encountered and look forward to hosting Princess Masechaba in the coming months.

Most important of all, God was around every corner we turned. Singing to us, praying for us, guiding us, and blessing every step we took. Hallelujah!
Ke a Leboha (Thank You) to First Baptist Greenville and several others that helped to sponsor our work in South Africa!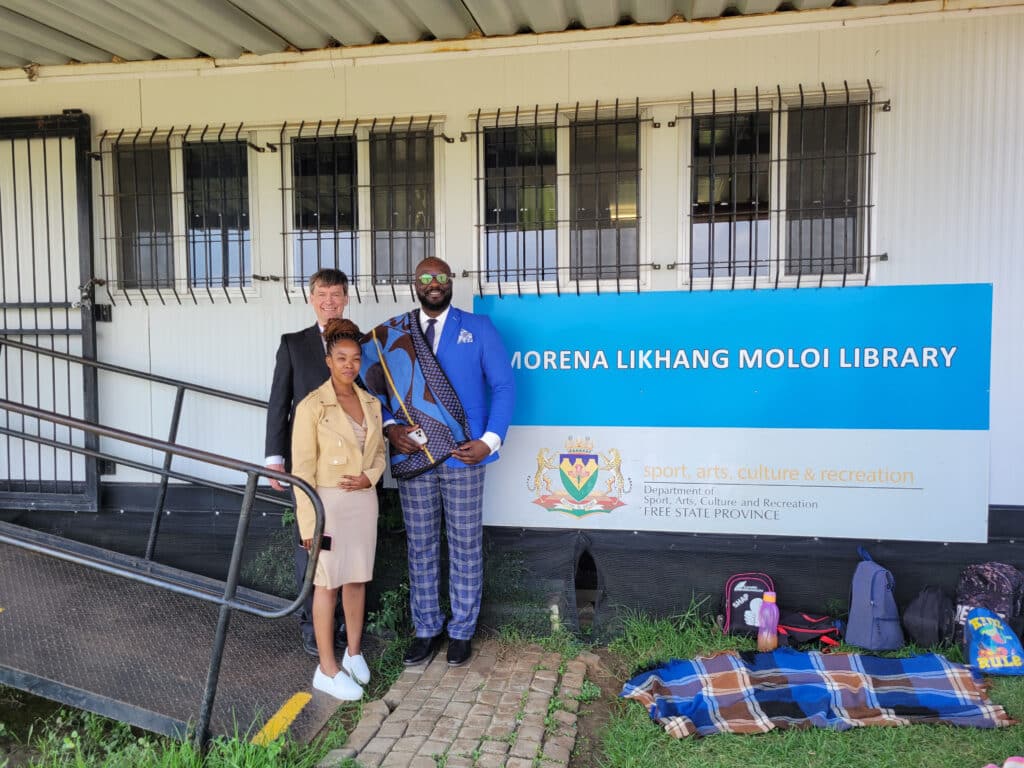 ---
In other exciting news, Michael Brown was recently added to the board of directors for the Conservation Voters of South Carolina Education Fund (CVSCEF), alongside a member of the South Carolina Association for Community Economic Development and a member of the Women's Rights and Empowerment Network. CVSCEF aims to maximize the participation of leaders in conservation and environmental organizations in public policy decisions in South Carolina. Michael has also been added to the board of advisors for the National Farm to School Network. Additionally, he was nominated and approved to join ecoAmerica's Leadership Circle, which is an invite-only community of climate leaders.

Michael also attended the Conservation Coalition 2023 Lobby Day at the Statehouse and the Annual Convening of Institute for Sustainable Communities Partnership for Resilient Communities.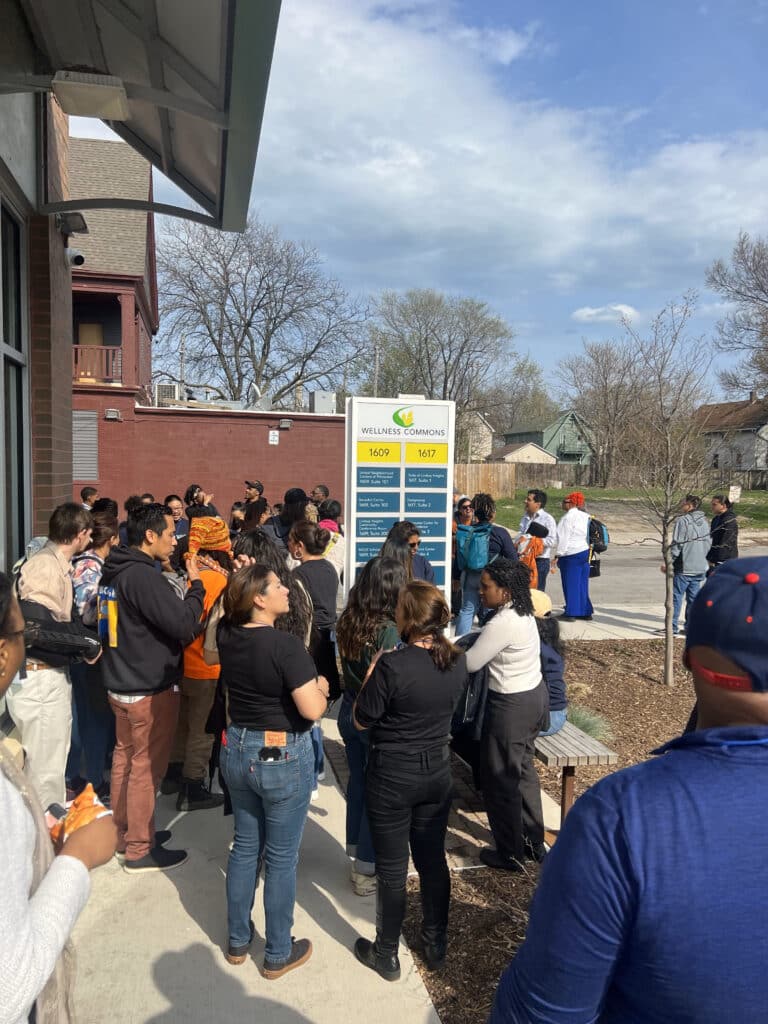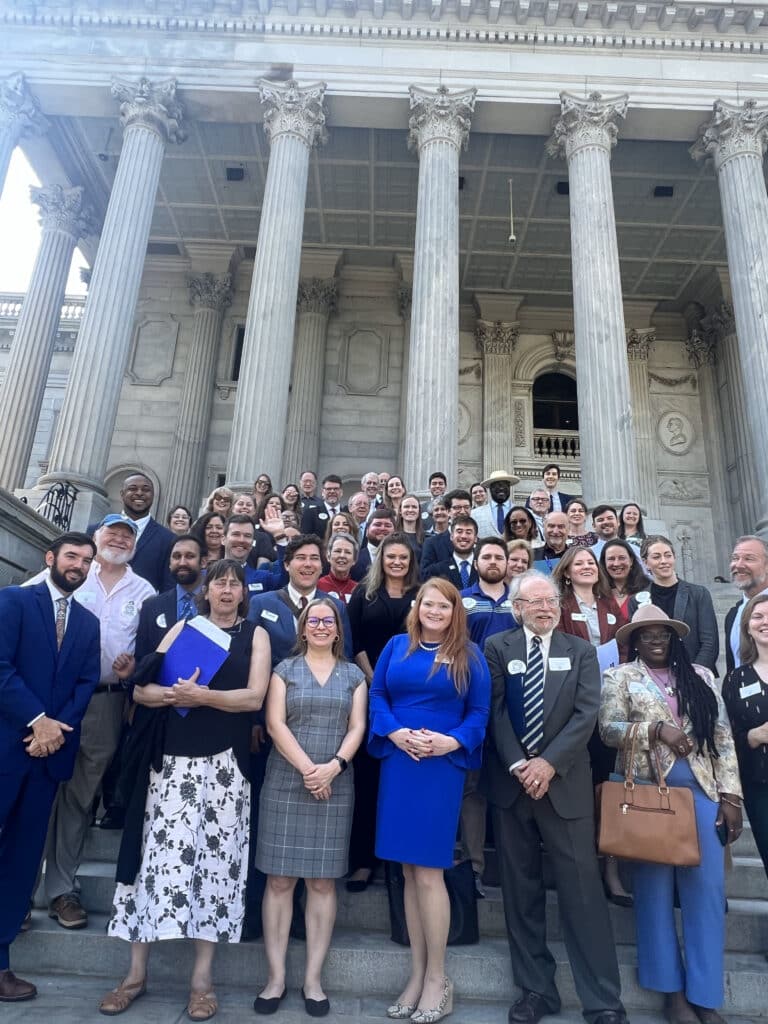 Available Positions at Sustaining Way
---
Come and join the Sustaining Way Team! Below are the current and upcoming openings – you can always browse them on the Careers page of our website and apply through the Indeed job posting.
Impact and Growth VISTA. The Impact and Growth VISTA will serve and help Sustaining Way prepare for growth by finalizing its model. This will include developing program impact measures; documenting and communicating impacts; and developing governance, organizational, and record-keeping processes to allow Sustaining Way to efficiently and effectively carry out its mission in the future.
People Development VISTA. The People Development VISTA will build the capacity of Sustaining Way by helping the organization further develop existing adult and youth development programs and activities. This would include organizing educational events/programs, documenting/organizing adult and youth programs and associated curriculum, recruiting and coordinating volunteers to support development programs, developing methods to track program impacts and "check-in" on past program graduates, and assisting in increasing resident engagement in development programs.
---
Program and Community Updates
---
Every Thursday from 12:30 p.m. to 1:30 p.m., in the parking lot of Hope Church in Nicholtown, we continue to host Meals & Masks in partnership with Project Host, providing fresh vegetables, fruit, protein, and more to the residents of the Nicholtown Community. The Sustaining Way staff also continues to attend and participate in the monthly Nicholtown Community Association meetings in order to stay up to date on community events and provide information or aid where we can.
March was Women's History Month, and we always want to celebrate the women who better the Sustaining Way team and community. Gender Equality is one of the United Nation's 17 Sustainable Development Goals, which we achieve at Sustaining Way by empowering the incredible women who are helping us create a world where all neighborhoods, people, and nature thrive.
During March was AmeriCorps week, from March 12th-18th! We want to thank our AmeriCorps members as well as all members and volunteers across the nation. AmeriCorps believes that service brings people together and bridges divides, and that message goes right along with our core values here at Sustaining Way. We are very grateful for our ability to partner with AmeriCorps and host AmeriCorps members at our organization.
April was Earth Month; we celebrated Earth Week from April 16th-April 22nd and Earth Day on April 22nd! This year's Earth Day theme was Invest In Our Planet. EarthDay.org says that this theme "is focused on engaging the more than 1 billion people, governments, institutions, and businesses who participate in Earth Day to recognize our collective responsibility and to help accelerate the transition to an equitable, prosperous green economy for all. We are focused on reframing the conversation, accelerating action, and bringing everyone together to understand that this is within our reach if we work together." Investing in our planet is not an idea that stops after Earth Day, but something we must take forward and continue to apply to our lifestyle choices and mindsets. By doing this, we have the opportunity to create a sustainable and equitable future for all. We encourage everyone to celebrate the ideas behind Earth Day every single day!
---
In February we started up a new weekly educational series at Meals & Masks where we share a new sustainability tip each week. These tips can also be found on our social media accounts (linked here) each week.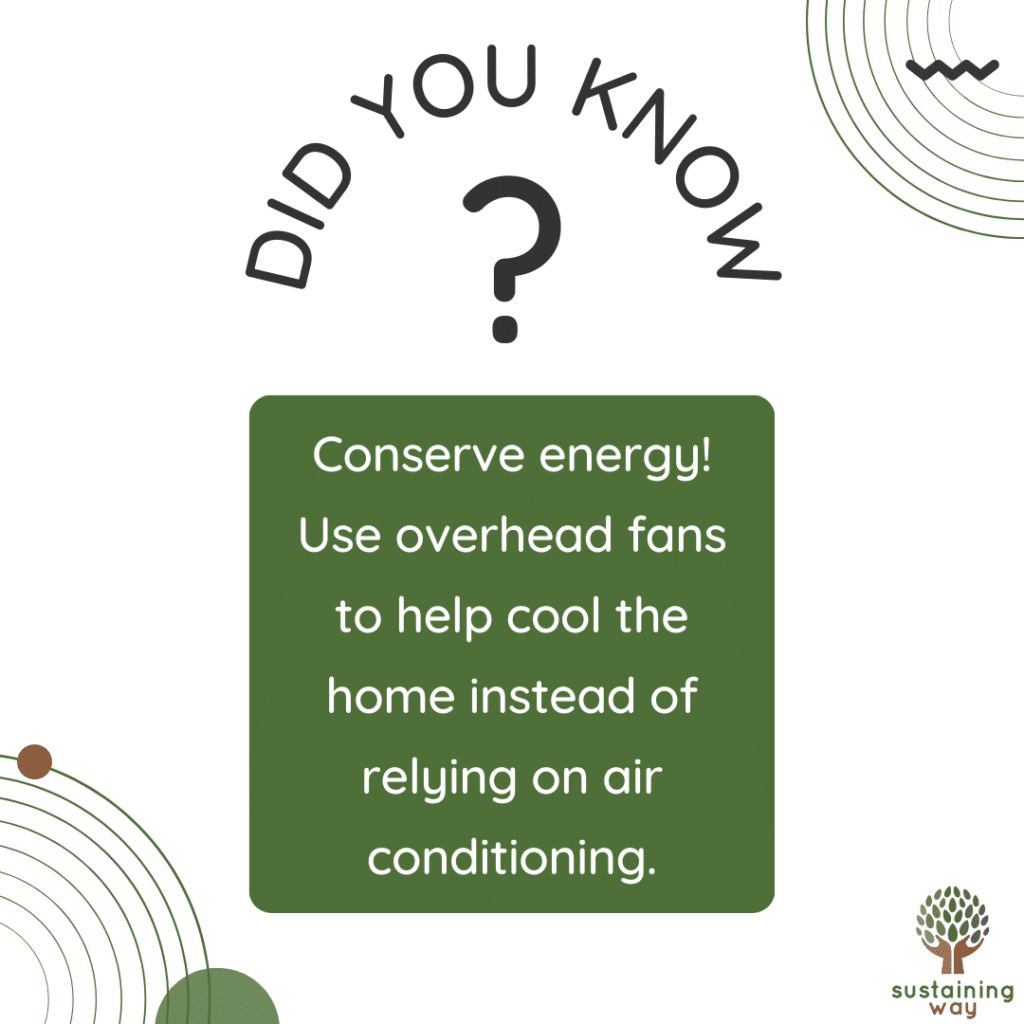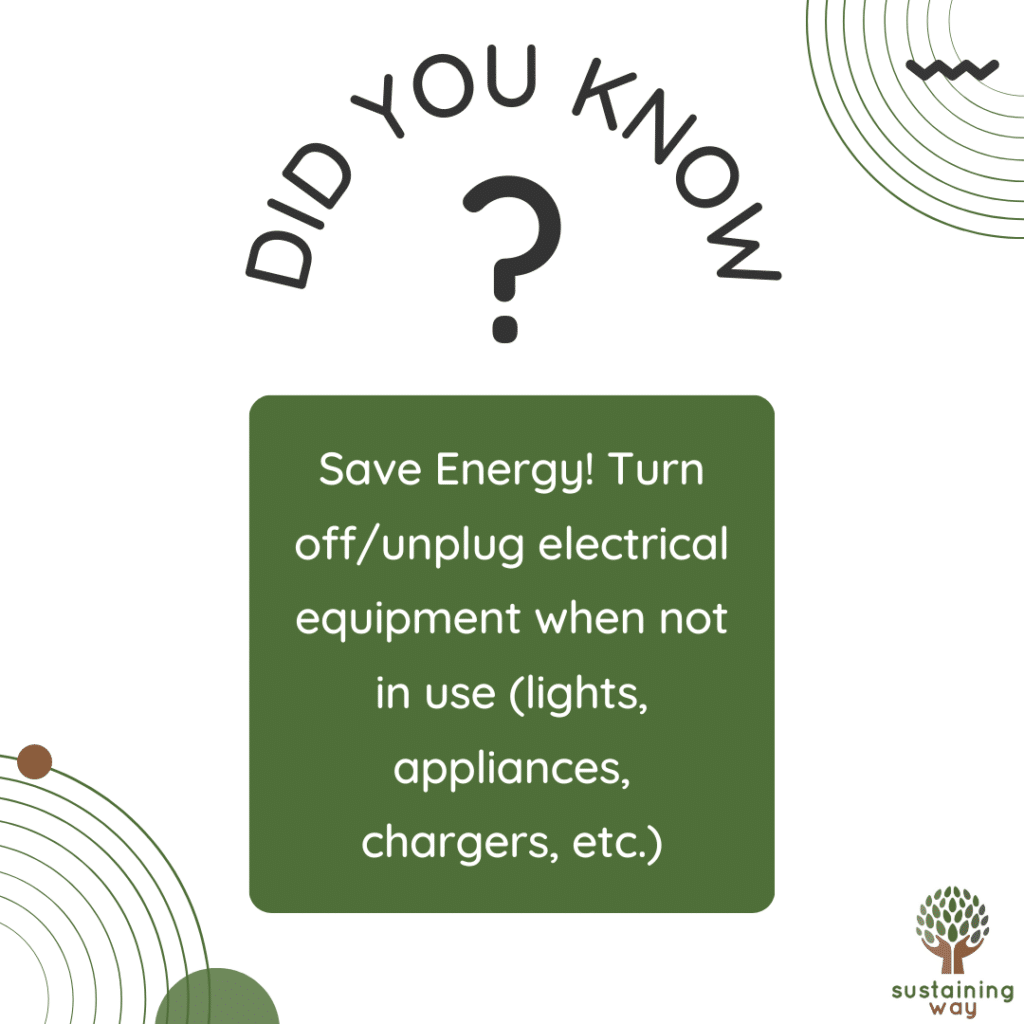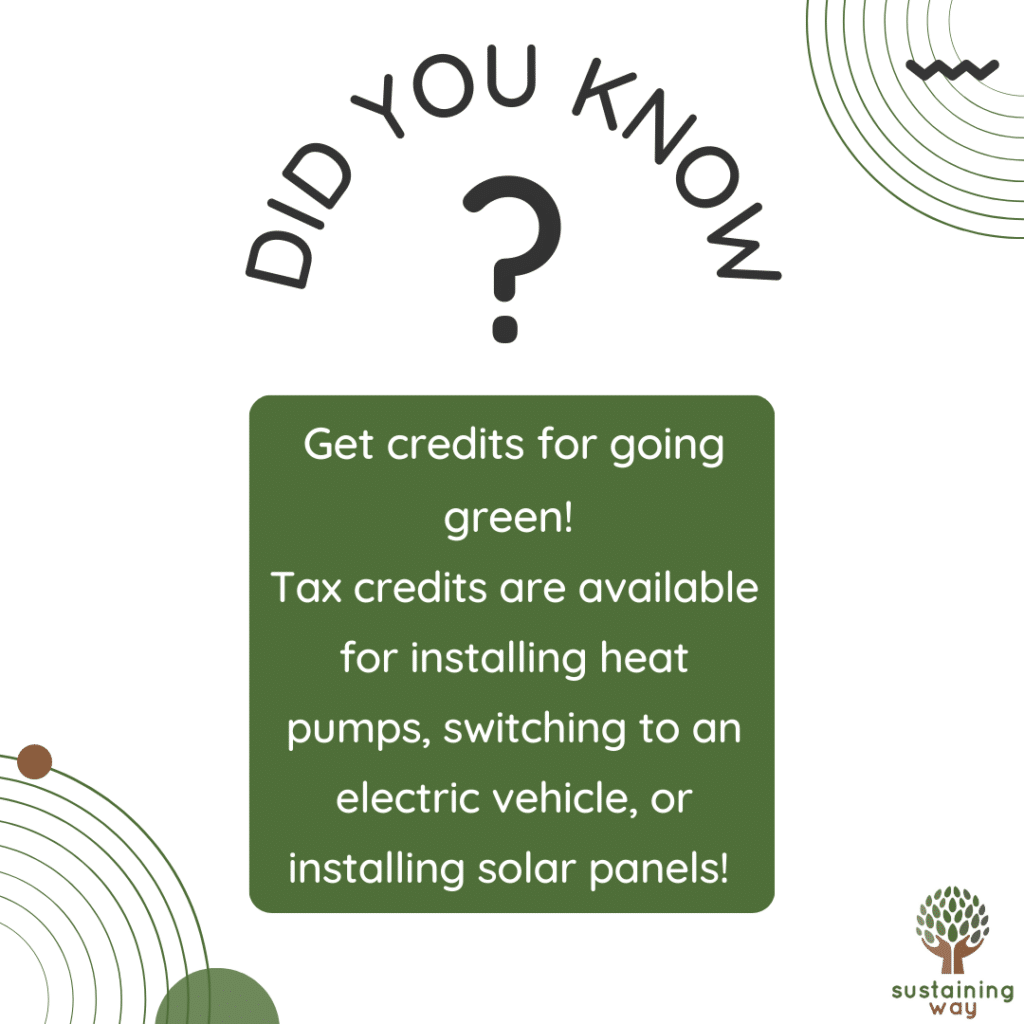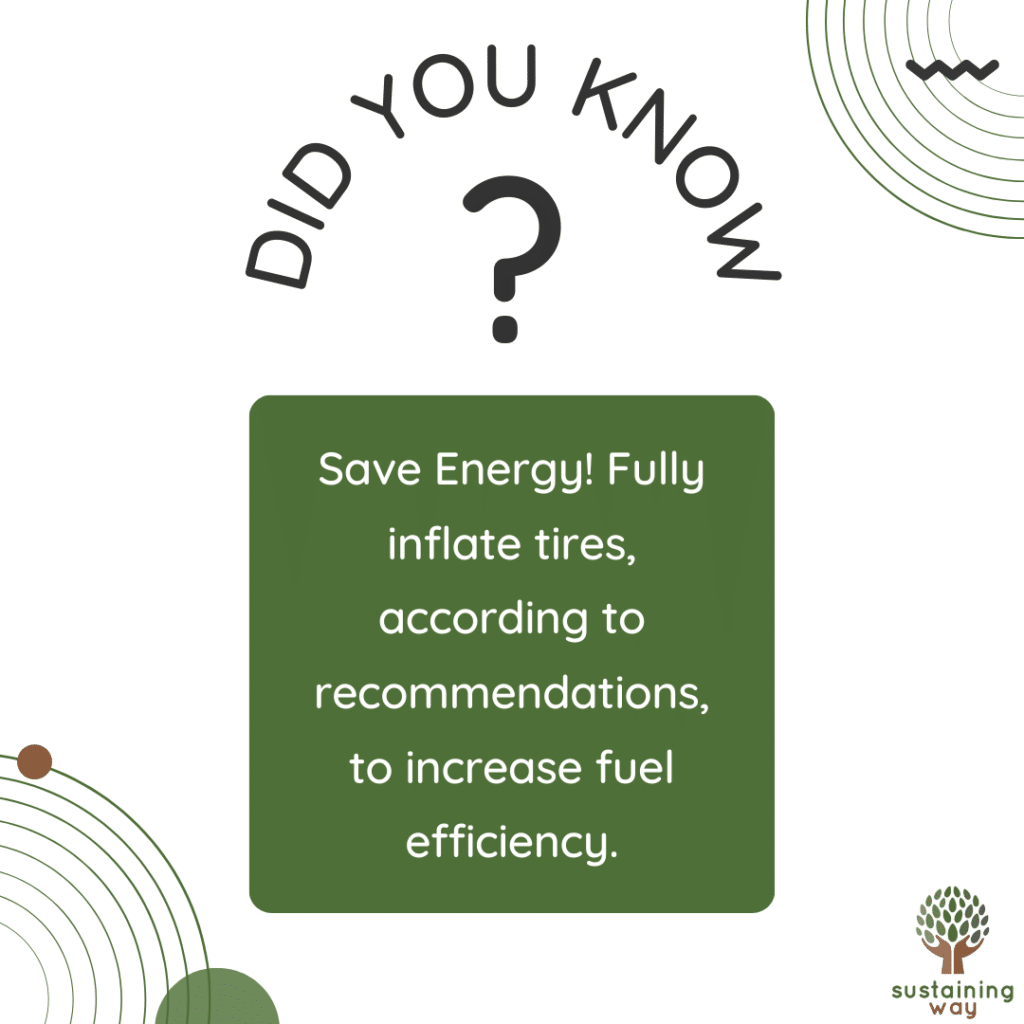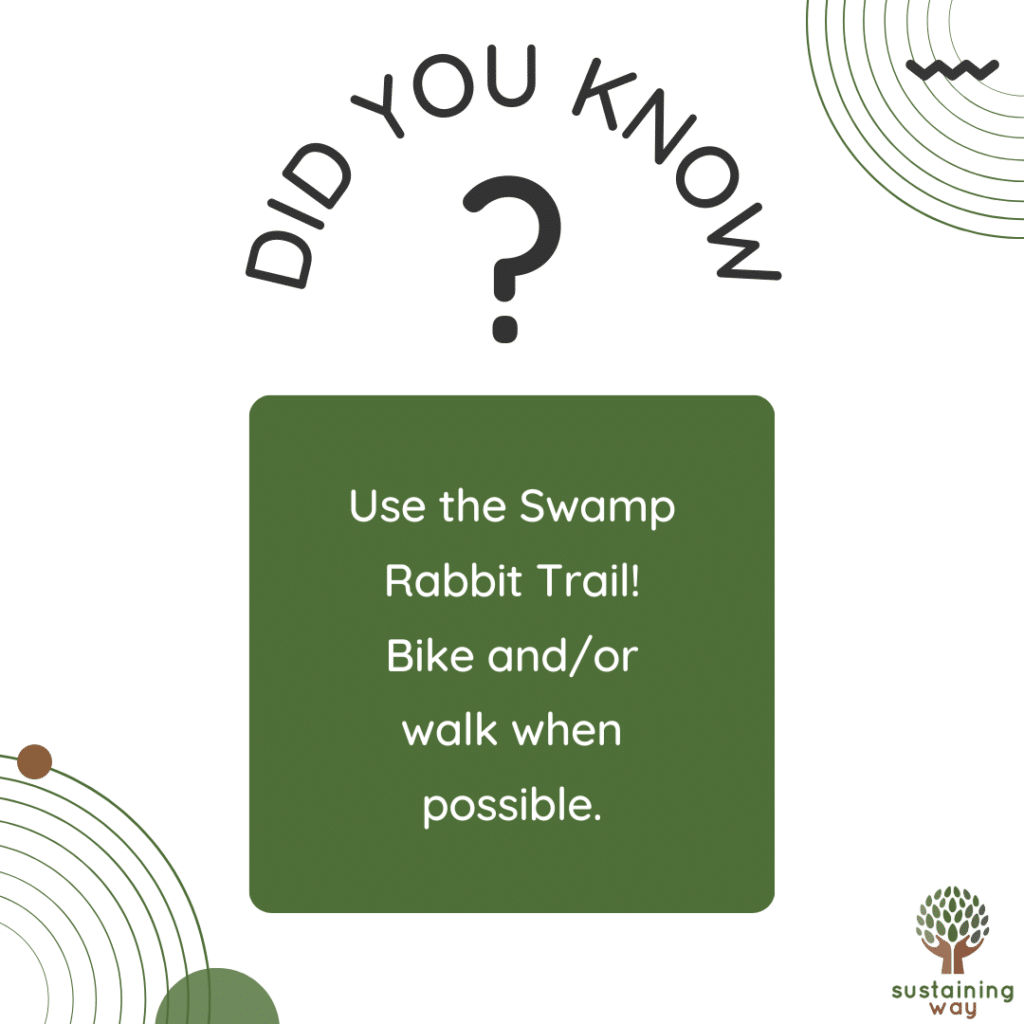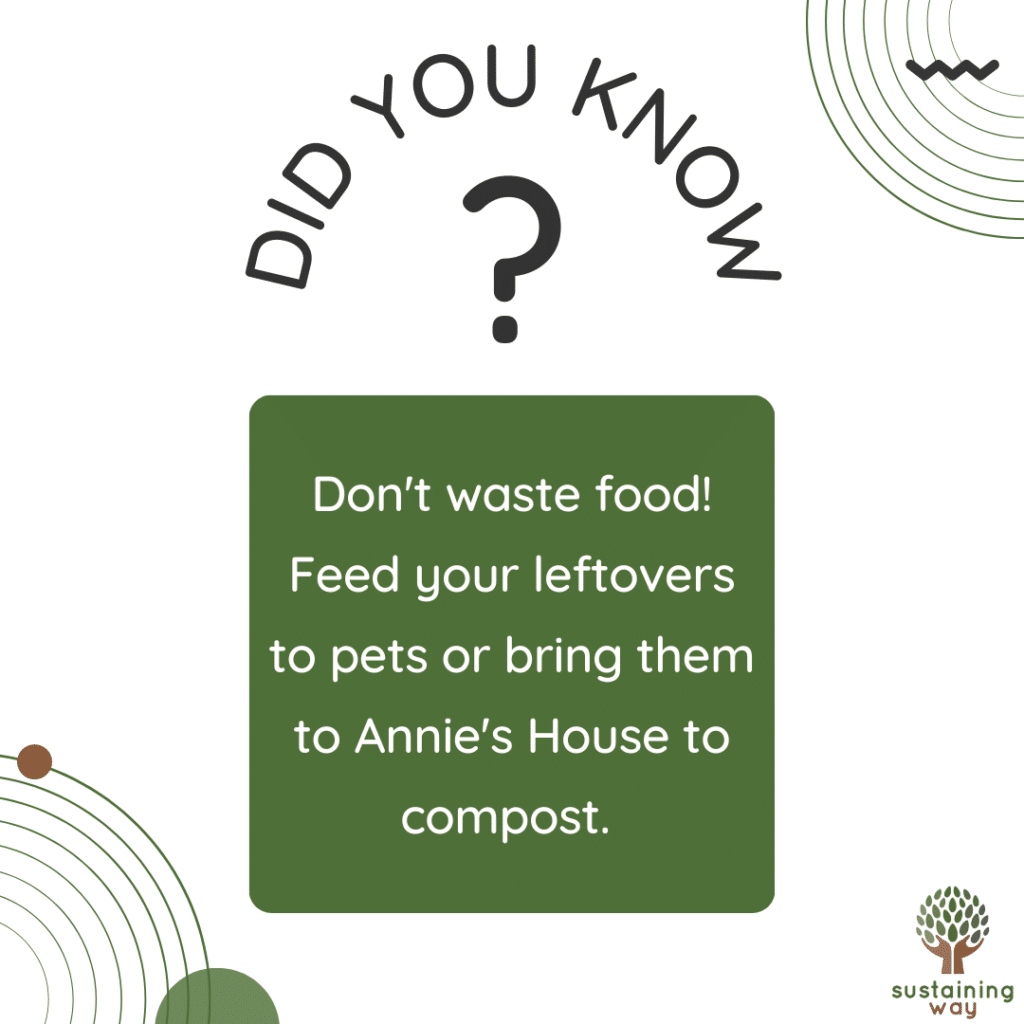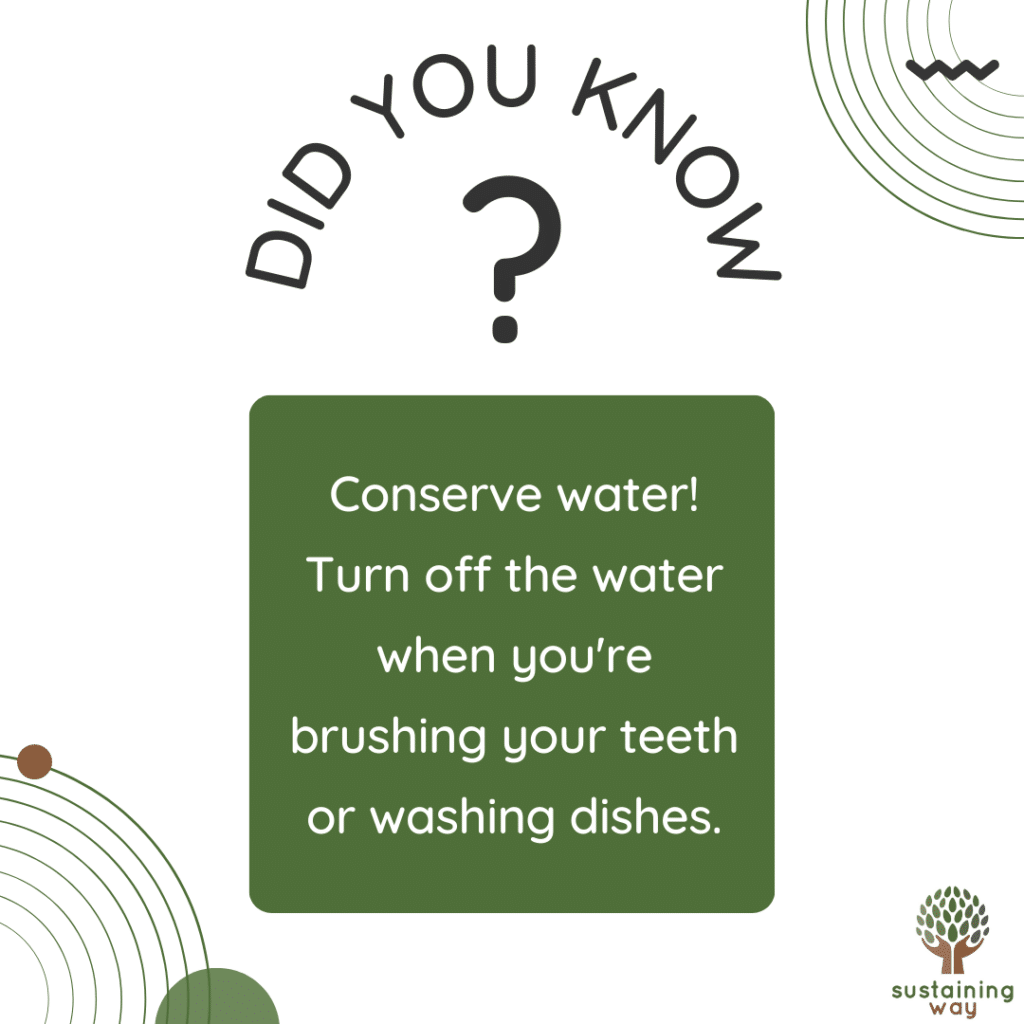 ---
Last Month's Meals & Masks started off with a free health screening on April 6th, where employees from DHEC and New Horizon Family Health Services provided free COVID tests, COVID booster shots, medical expertise, and information for the community's medical needs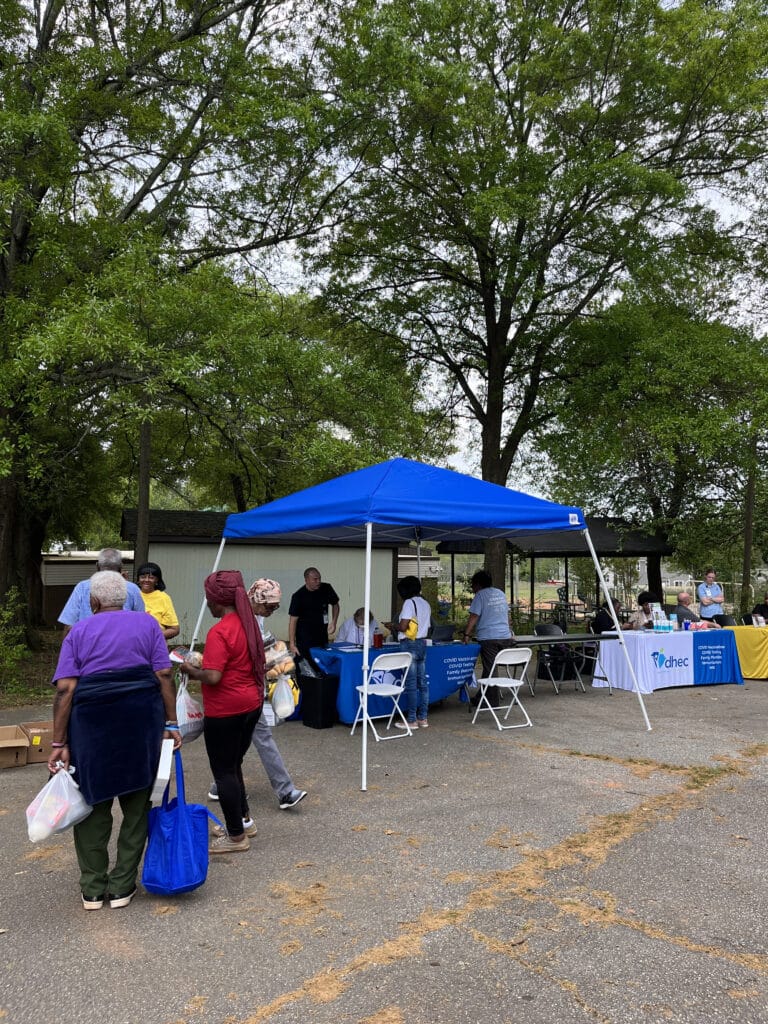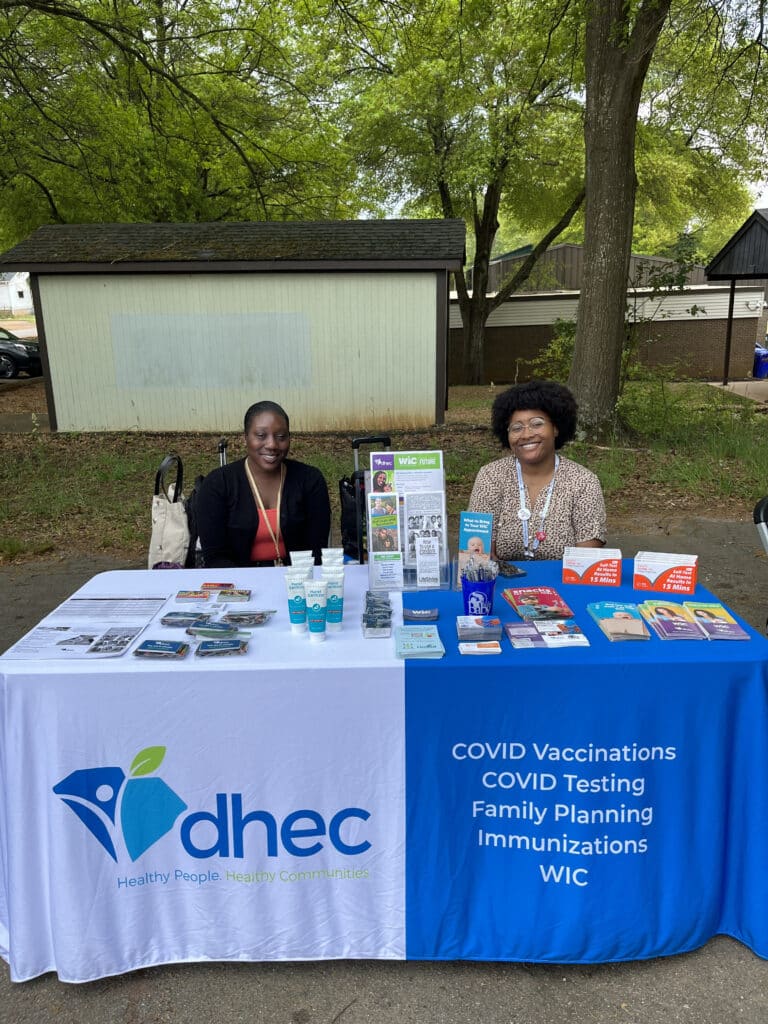 ---

Meghan, our Adult and Youth Development VISTA, had a great time tabling at Roper Mountain Science Center's Earth Day celebration during Earth Week!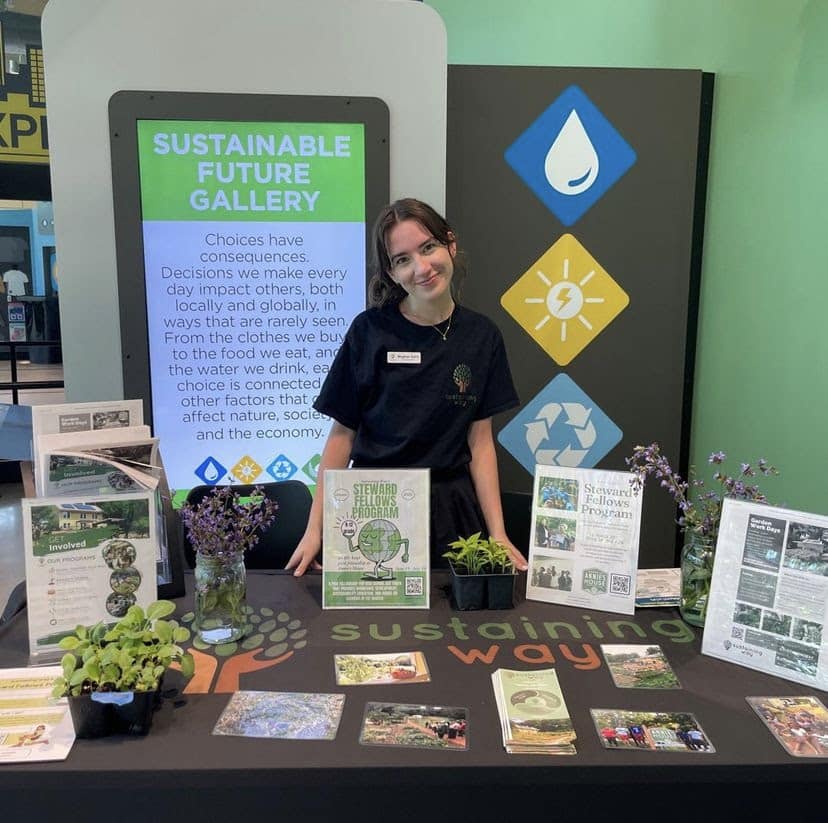 ---
We had a lot of different groups come out to volunteer with us in March! The College of New Jersey Bonner Institute came by Annie's House for a group volunteer day (all the way from New Jersey!), The Governor's School of Arts and Humanities (located here in Greenville) had a group of high schoolers volunteer at Annie's House, groups from both Furman and Clemson came out to our Glenn Road community garden on our Saturday Day of Service, and a group from the Sierra Club came to Annie's House.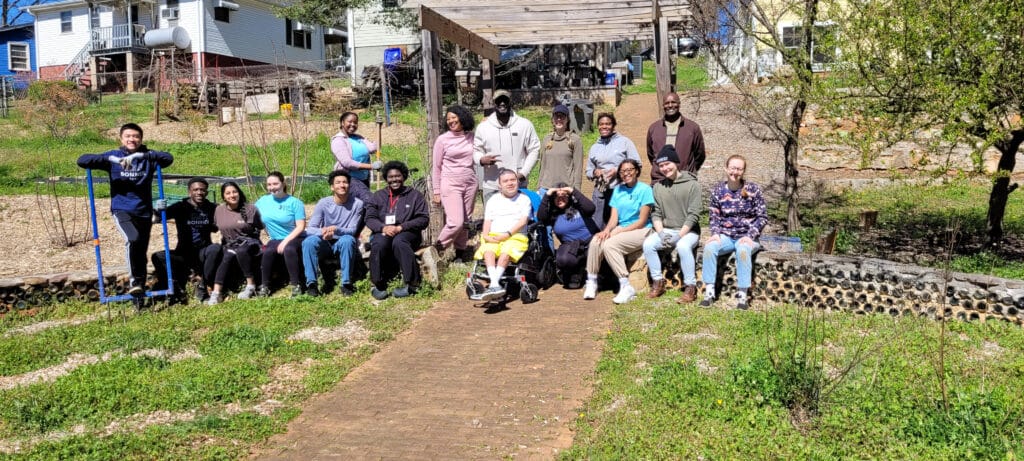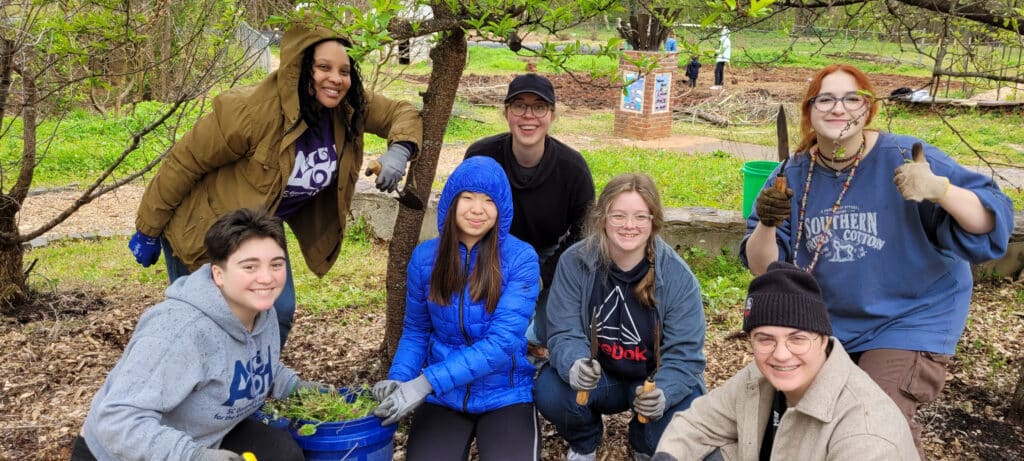 ---
The Annie's House garden had a great volunteer turnout in April, including groups that helped us celebrate Earth Week and Earth Day (GE Vernova Digital Leadership Team, ETO Greenville Chapter of AKA, and others)!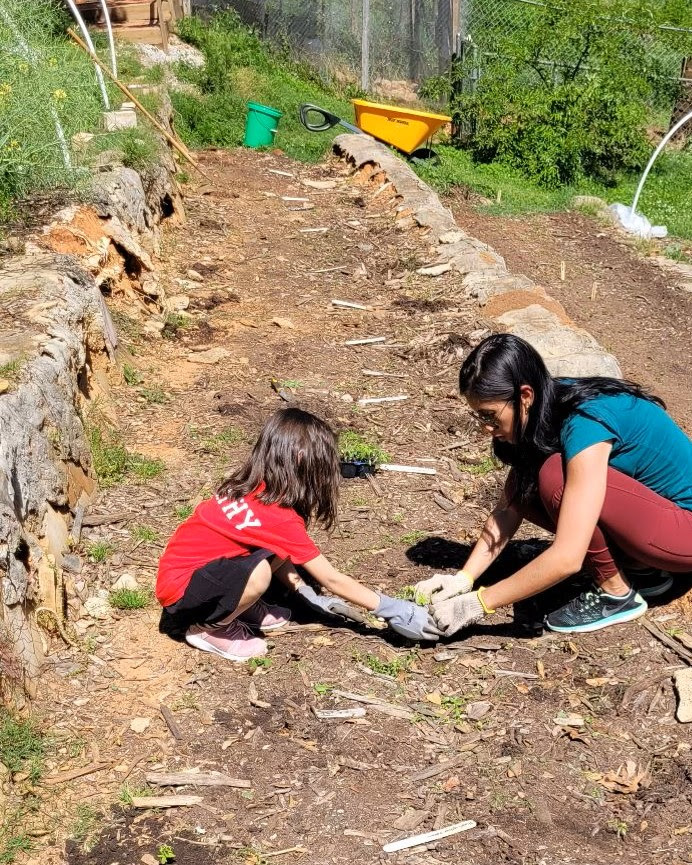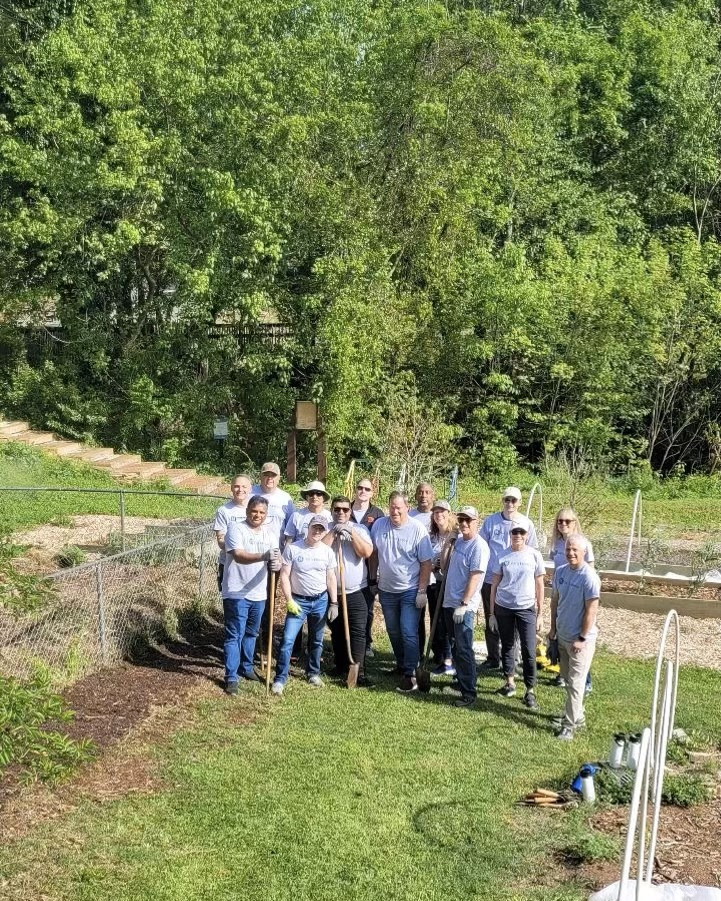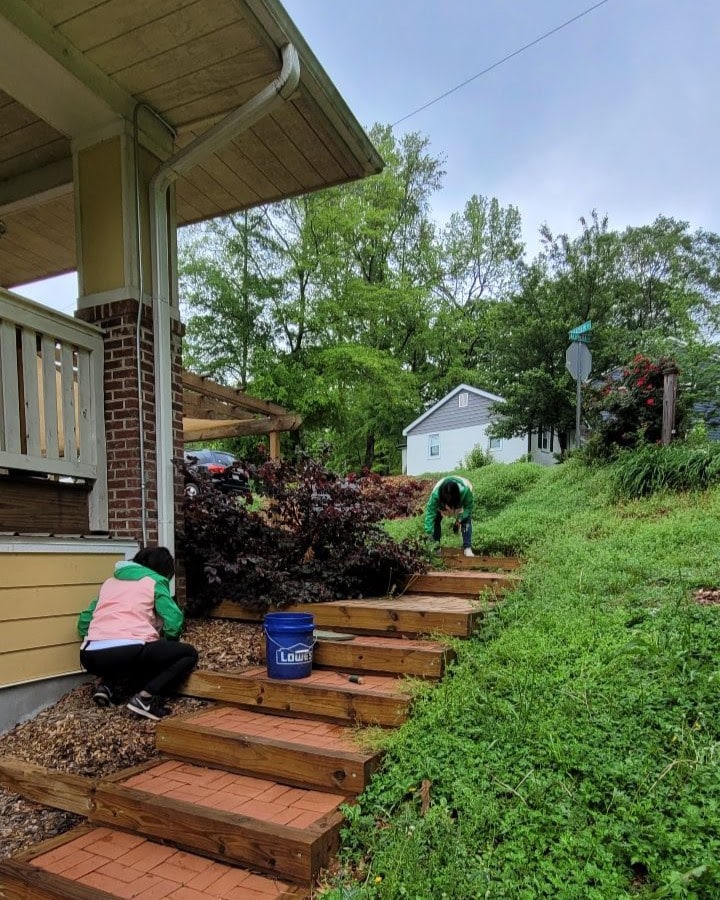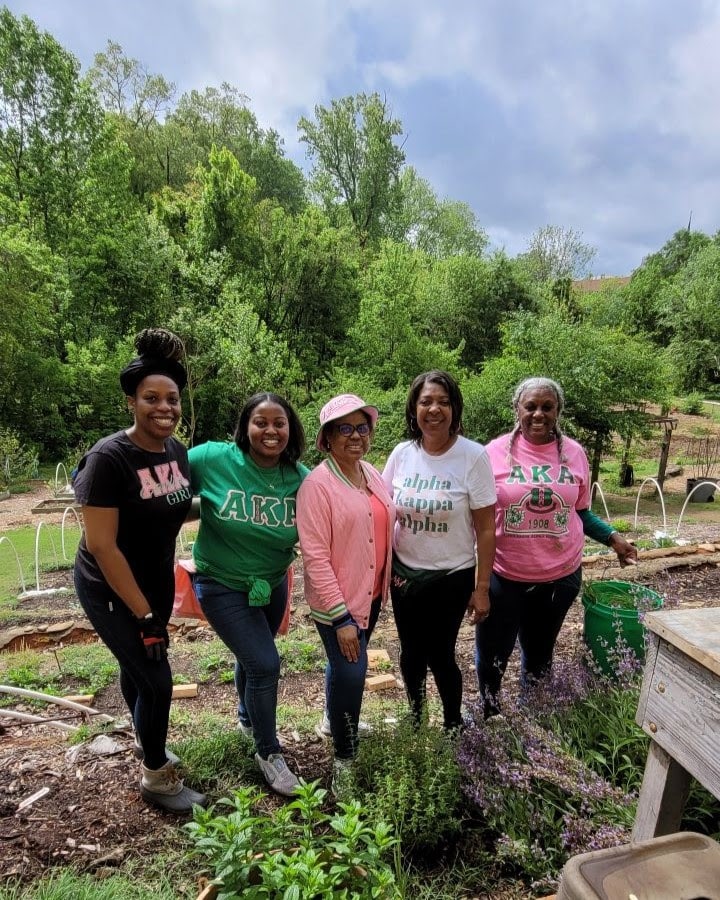 ---
Stacia, our Engagement VISTA, and Oscar, our Engagement Coordinator, visited Christ Church Episcopal School in March to give a presentation on food security to the ninth grade biology class students. We enjoyed getting to visit this local school and greatly appreciated the attentiveness and interest from the students.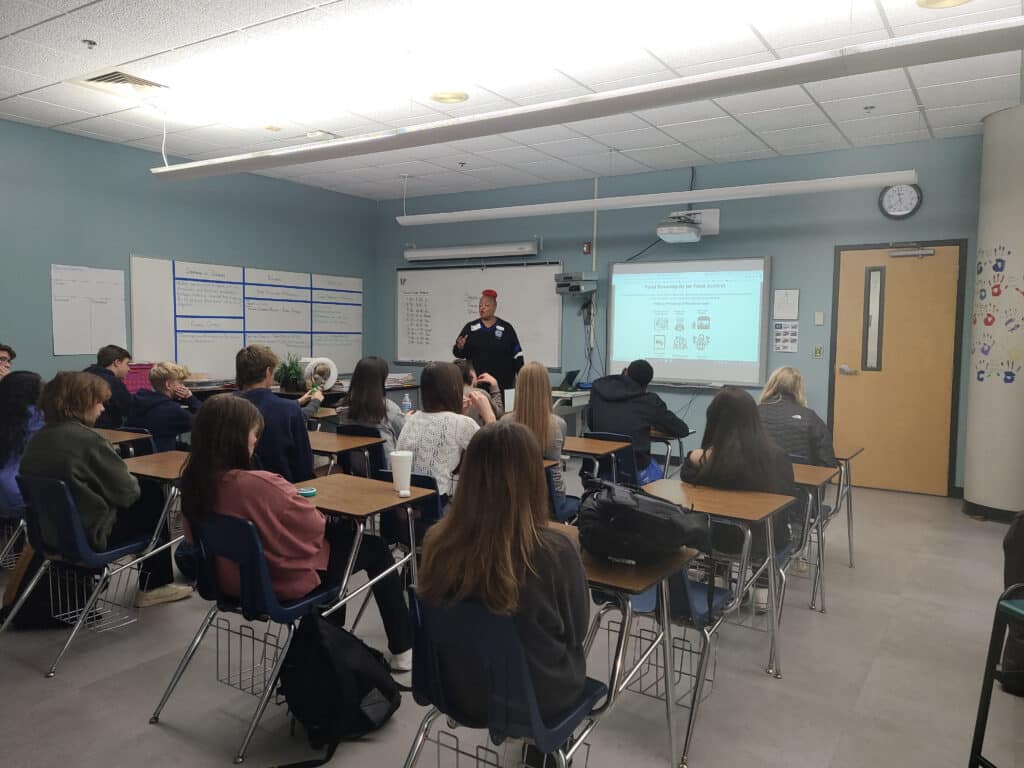 ---
We recently hosted youth from First Baptist Greenville's Children on Mission program. The youth got the opportunity to have a tour of our garden and received a quick lesson on consumption and waste once we got to our compost pile. First Baptist Greenville has been a long-time partner and friend of Sustaining Way, so we loved having some of their youth on site at Annie's House!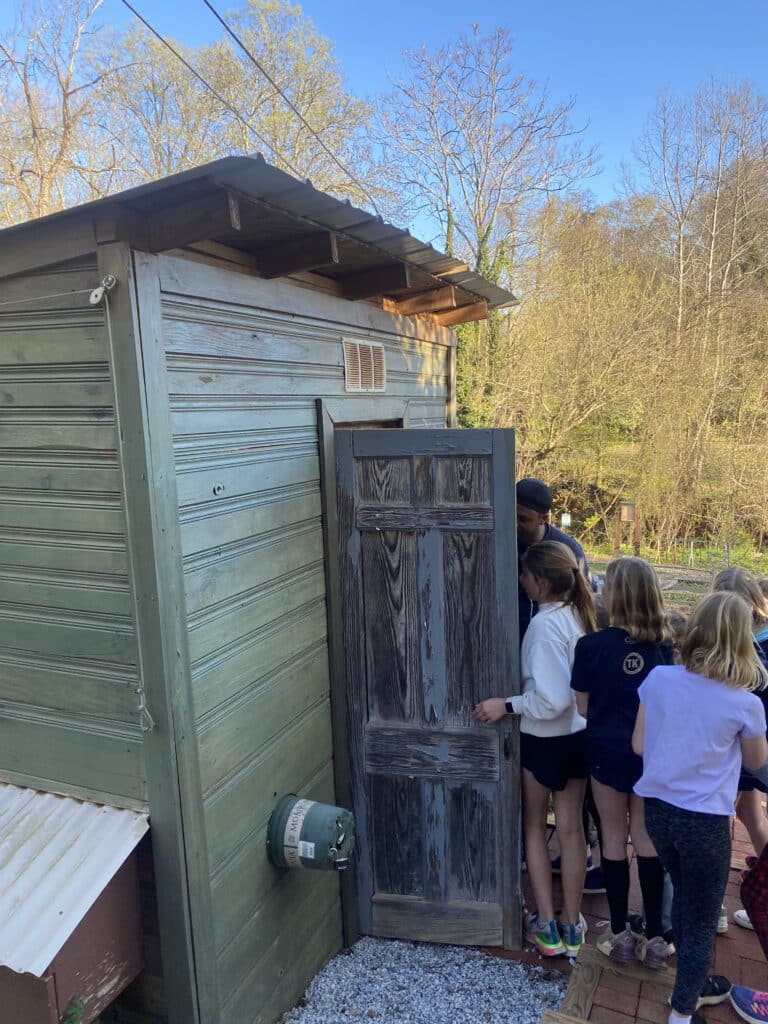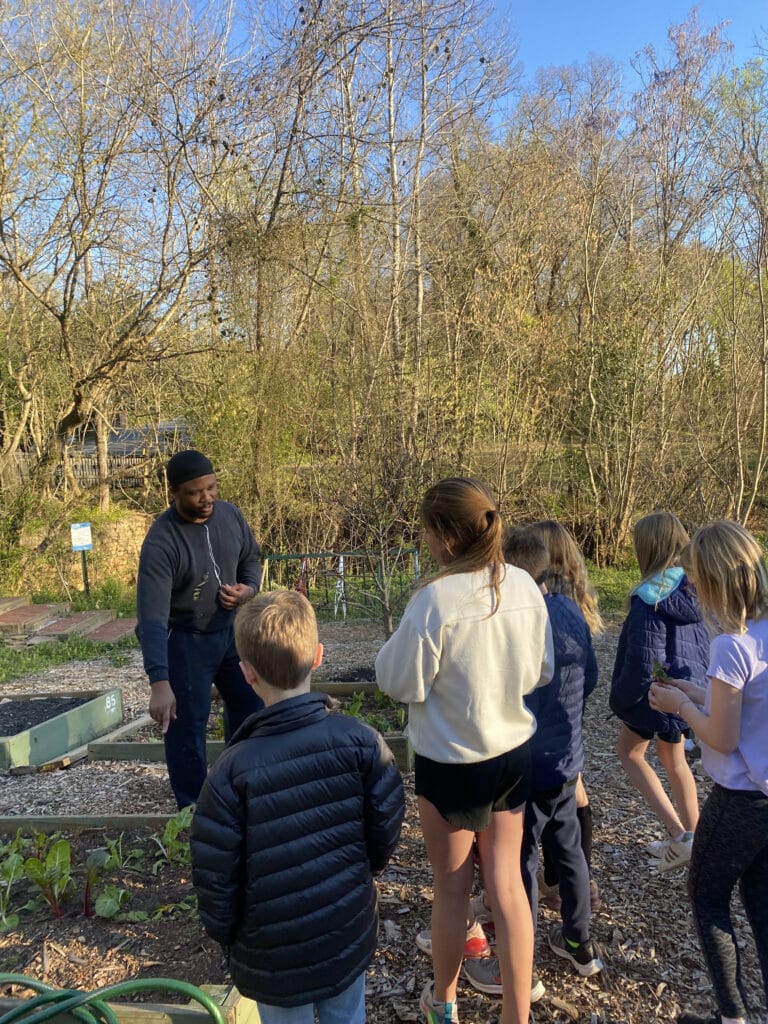 ---
As part of our regular after school lessons at the Nicholtown Community Center, we were able to have the youth on site twice in March. The first time, students learned about waste and consumption and had the opportunity to separate their waste into trash, recycling, and compost. The second time, students joined us in painting several of the donated birdhouses! The birdhouses turned out beautifully and we are looking forward to hanging these up around Annie's House in the future.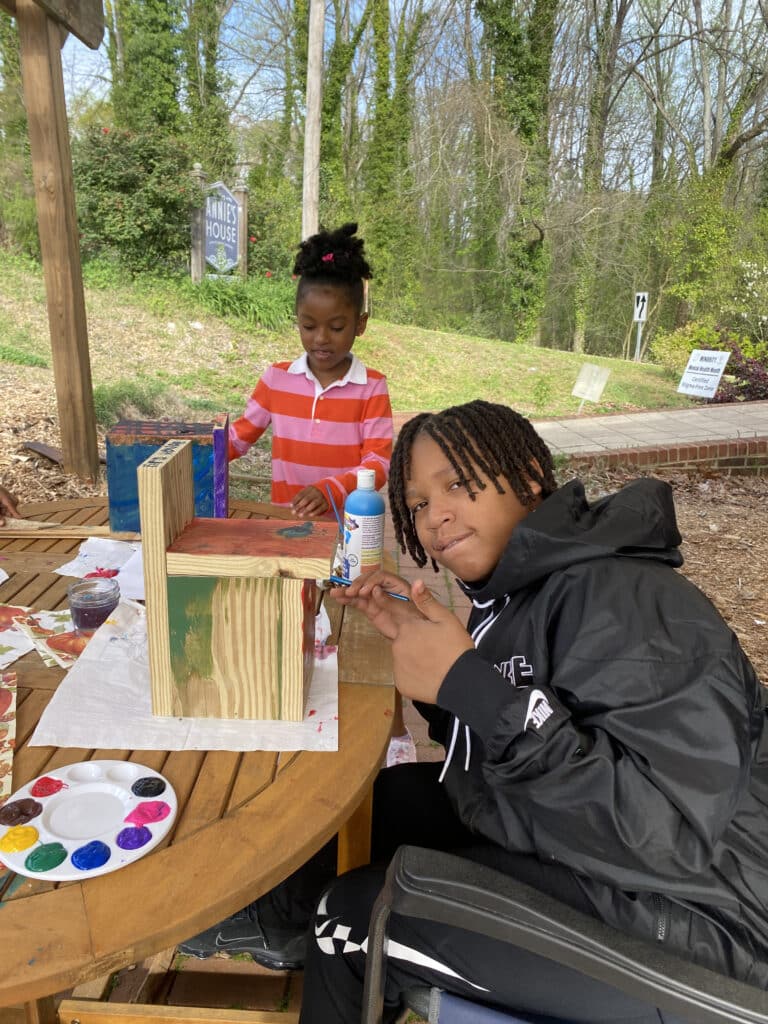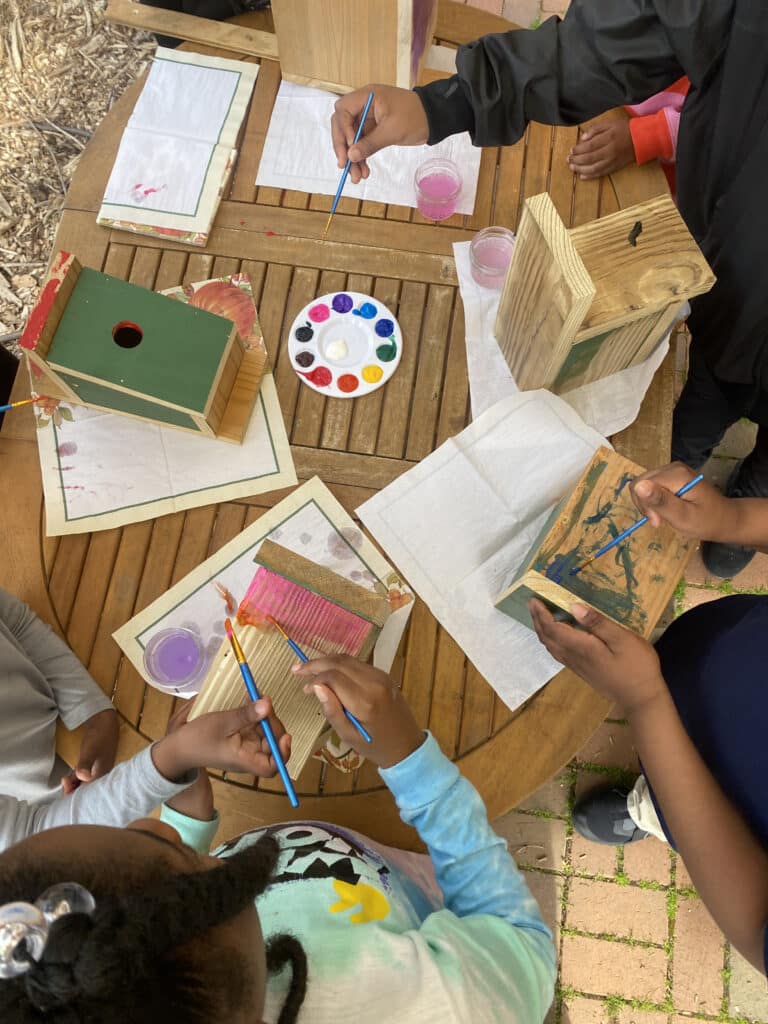 ---
In April, The Nicholtown Community Center youth got to visit Annie's House, play Annie's House bingo, and explore what is going on in the garden!
---
---
With the help of volunteers, we have already gotten started on two new backyard gardens in time for the warm spring weather! Below, you can see the before and after of one of the gardens getting built.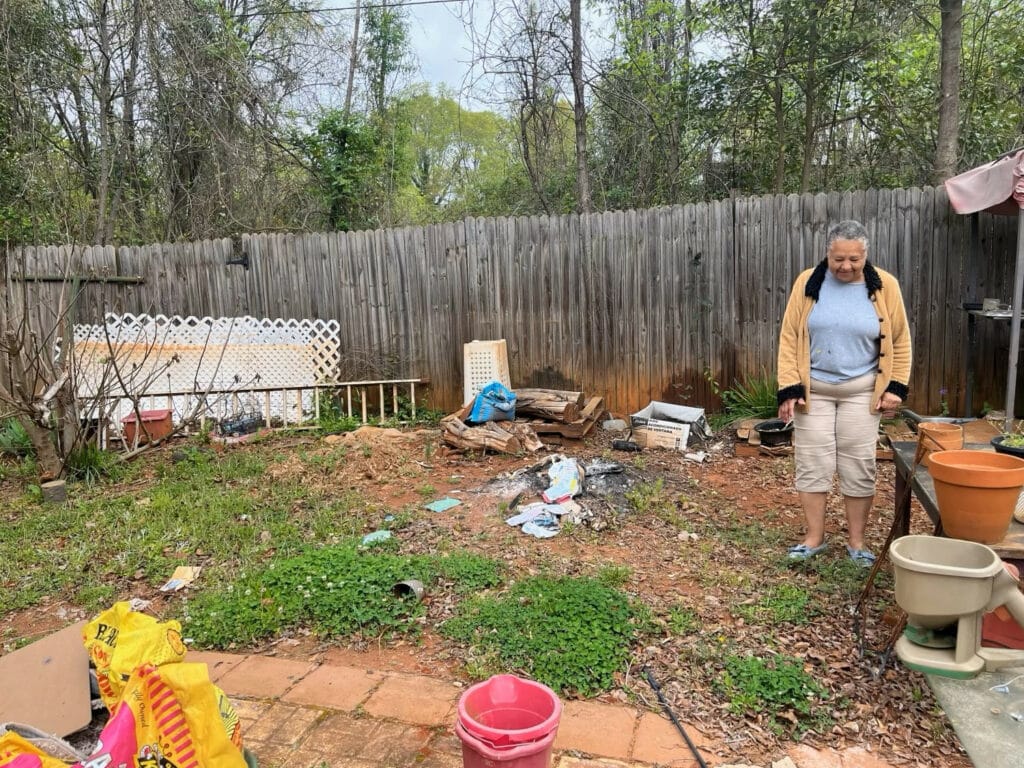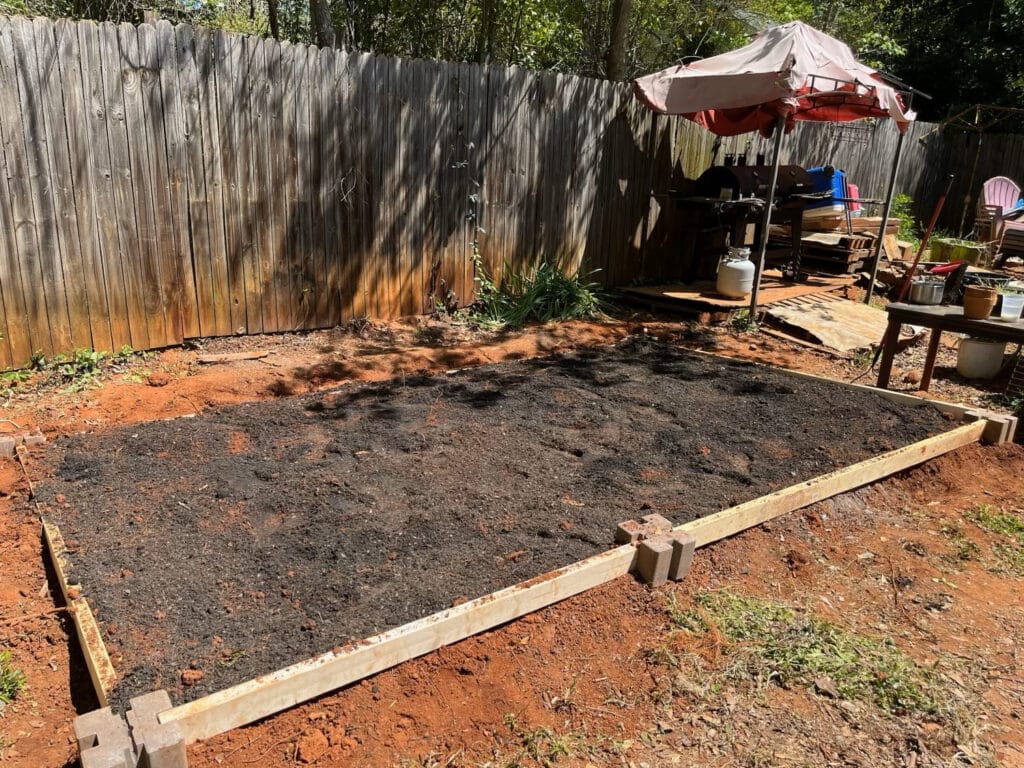 ---
We had our Open House event at Annie's House on April 25th from 6:00-7:30 p.m. We gave tours of the house and garden, discussed current programs, and answered questions that attendees had. Keep an eye out for our next bi-monthly Open House!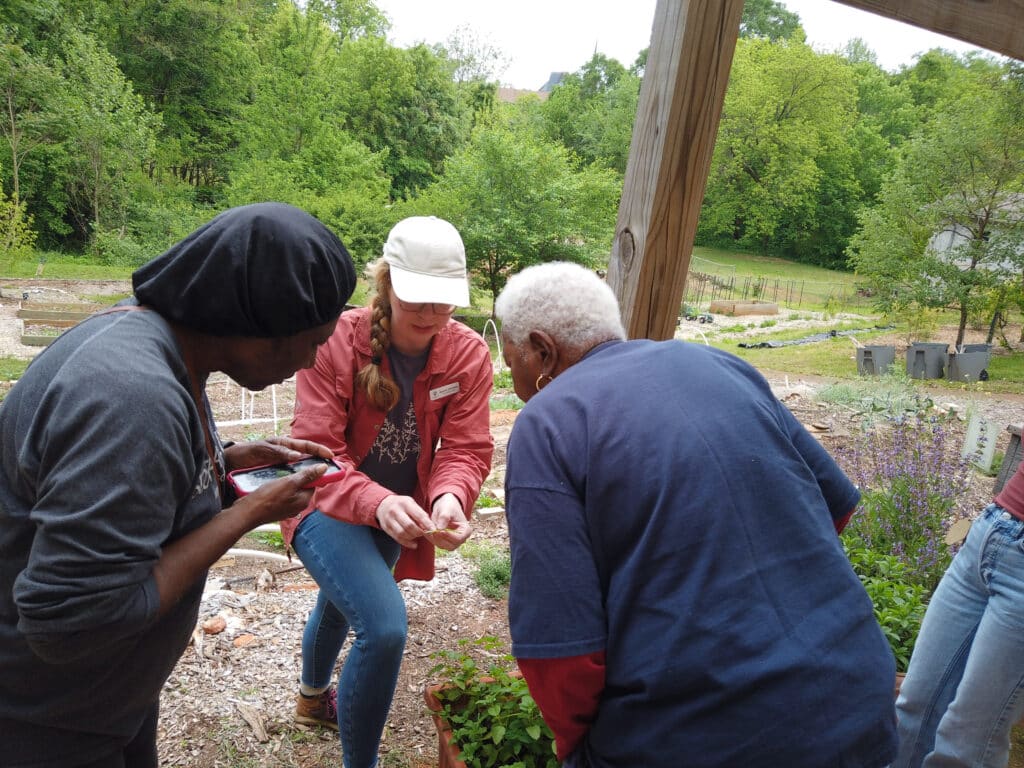 Volunteer Opportunities and Giveaways
---
We deeply appreciate all of our volunteers at Sustaining Way and cannot thank them enough for coming to our various events. Looking to volunteer with us? Check out the new volunteer page on our website to explore all of the ways that you can get involved. We offer many opportunities to get your hands dirty and make a difference in the community.
We have updated our Garden Work and Learn Friday hours for the summer! We hold Garden Work and Learns every Tuesday from 3:00-5:00 p.m., Wednesday from 4:00-5:30 p.m., and Friday from 8:00-10:00 a.m. at Annie's House. (Note that these times are are always weather-dependent.) These are excellent opportunities to volunteer in the Annie's House garden while also getting all your gardening, composting, and sustainability questions answered by our amazing staff. We also hold monthly Service Days on the third Saturday of each month from 10:00 a.m.-12:00 p.m. Volunteers are always welcome at any of our events. We hope to see you in the garden soon!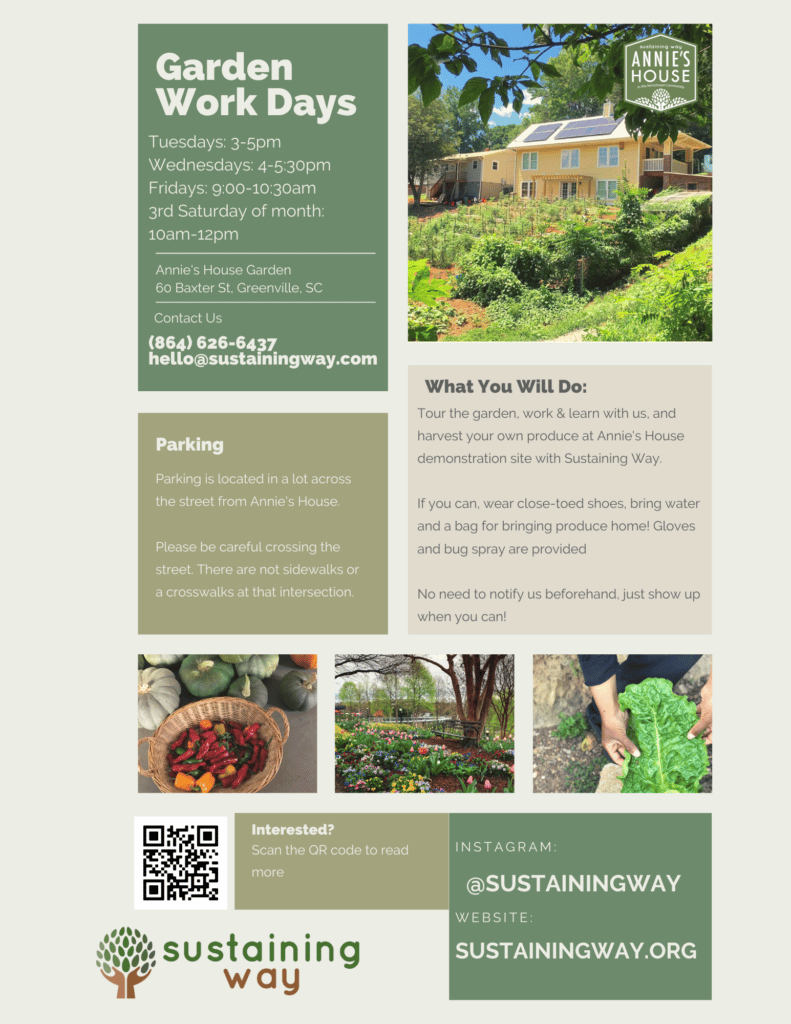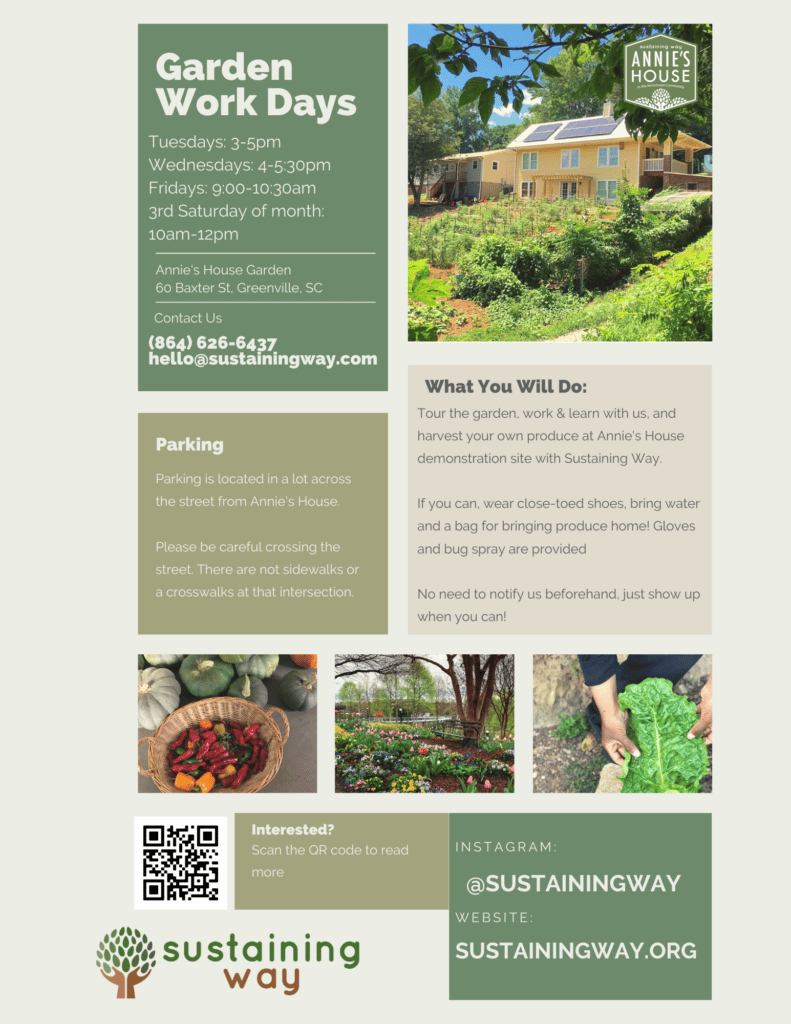 We hold additional virtual/remote volunteer opportunities if you are not located in the area or if gardening isn't your thing. Our volunteer interest form contains all of the categories of opportunities that we offer.
Volunteer of the Month:
Congratulations to Kealani for being randomly selected as Sustaining Way's March Volunteer of the Month! Kealani started volunteering with Sustaining last month and has already become a regular during our garden workdays! Kealani will be receiving free pastry cards generously donated by Swamp Rabbit Cafe and Grocery as a token of our thanks for her time spent volunteering at Annie's House.
Want to be entered into the raffle for Sustaining Way's next Volunteer of the Month? All you need to do is volunteer with us any time before the end of the month and you will be entered to win!
Become a Sustainer Today!
Become a Sustainer of Sustaining Way! By giving any monthly amount, whether $5 or $500, you will be providing essential support for our life-changing programs, and provide us consistent income so we can better focus our efforts on our mission. These monthly donations make a huge difference to us and can gain you benefits like a produce card to use at our garden on site, reusable and sustainable goodies, or even a free energy home visit!
---
We always appreciate any donations, and similar to monthly sustainer donations, any donation amount helps to back our programs and initiatives, and ultimately our mission to use education, collaboration and advocacy to create sustainable, caring, and equitable communities for current and future generations.
---
If you ever want quick access to important links, you can visit this page to find all of them. Our website is also always home to everything, and very easy to navigate.
---
Follow us on:
Please write a review and/or follow us on social media. Please feel free to
like, comment, and share our posts and upcoming events.