August/September 2023 Newsletter
---
Program Updates
Dash EV brings rideshare vision to Nicholtown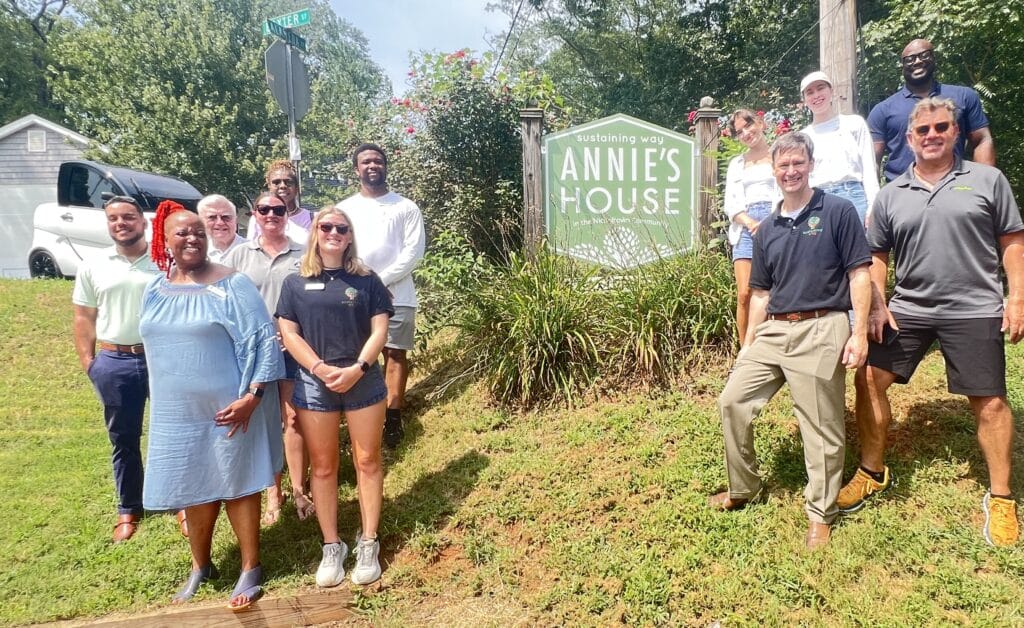 In August, Dash EV (electric vehicle) partnered with Sustaining Way to offer Nicholtown residents rides in their two-seater car—and a glimpse of what ride shares could be in Greenville neighborhoods.
Roman Kuropas, founder and CEO of Dash EV Motors, said he wants residents in communities like Nicholtown to have more affordable, reliable transportation options.
The Dash EV low-cost model starts at $11,500. It only travels in areas with speed limits less than 35-mph.
"Dash EV offers a low-speed vehicle service. We never go on the highway. We strictly focus on 35 mph streets and cities near college campuses or inside communities. There is a big need for this first and last-mile mobility. Dash EV offers that solution," said Kuropas.
Nicholtown riders said they chose to take rides through the neighborhood because they were curious about what the compact car could do. No one owned an EV, but several said they would be interested in a neighborhood ride share as an alternative to the Greenlink, gas-powered cars, or other rideshares like Uber and Lyft.
Learn more about Dash EV's visit in the Nicholtown neighborhood in the FOX Carolina news story featuring our partnership.
---
Fall Planting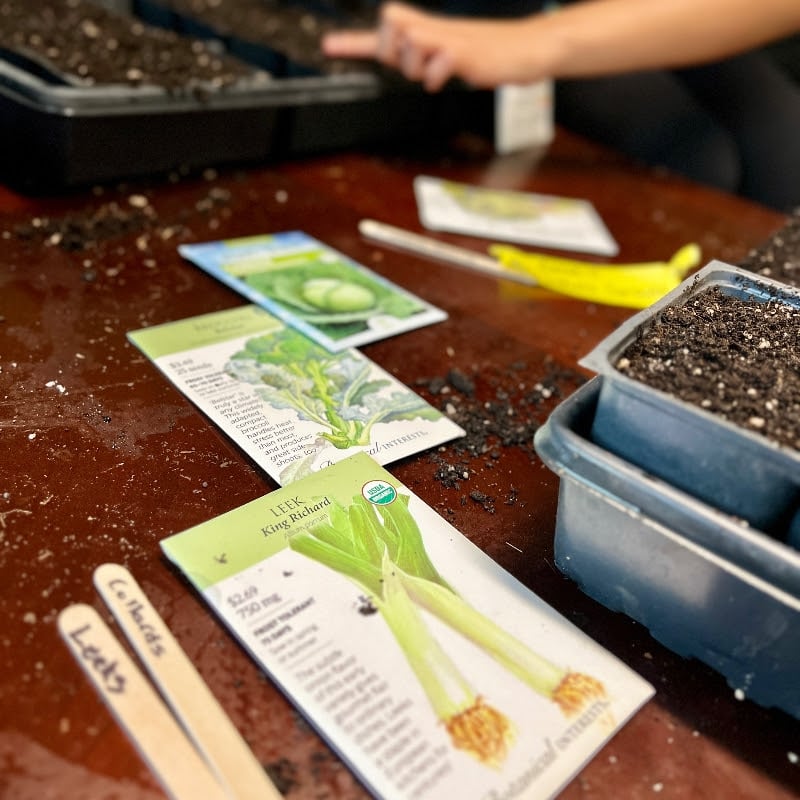 As summer wound down, our agriculture team began planting seedlings for fall.
This fall's harvest will include:
leeks
cabbage
Brussels sprouts
collards
artichokes
Nicholtown residents will find these vegetables available after fall harvest at Meals & Masks, every Thursday at 12:30 p.m. at the Nicholtown Community Center. If you want to plant your own fall garden, you can sign up for Sustaining Way's Backyard Garden Program. No experience is necessary. Email Chazmier Tyler at chazmier.tyler@sustainingway.com for complete details.
---
Partnerships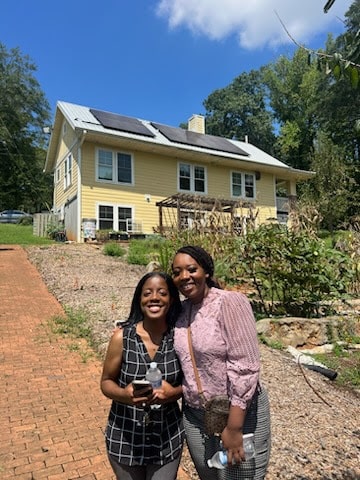 Michael Brown, executive director, introduced Gene-Xcellence team members to Annie's House and Sustaining Way's demonstration garden site in August.
The mission of Gene-Xcellence, based out of Simpsonville, S.C., is to empower teenagers and young adults with the essential life skills and resources they need to achieve economic mobility, unlock their full potential, and conquer challenges they may face.
"We are in full support (of Gene-Xcellence) and their journey to create sustainable communities for current and future generations," Brown said.
Visit https://gene-xcellence.org/ to learn more about their work in Greenville County communities.
---
Community Gardens
While pulling weeds may seem like the least interesting task in a community garden, our Glenn Road garden offered some surprises during clean-up in August.  
 Weeds exceeded lengths of 5 feet when volunteers and Sustaining Way staff got to the roots. They pulled these weeds from around the muscadine vines.  
Our agriculture team recommends weeding gardens every week, so the task doesn't become too large or squelch the growth of plants.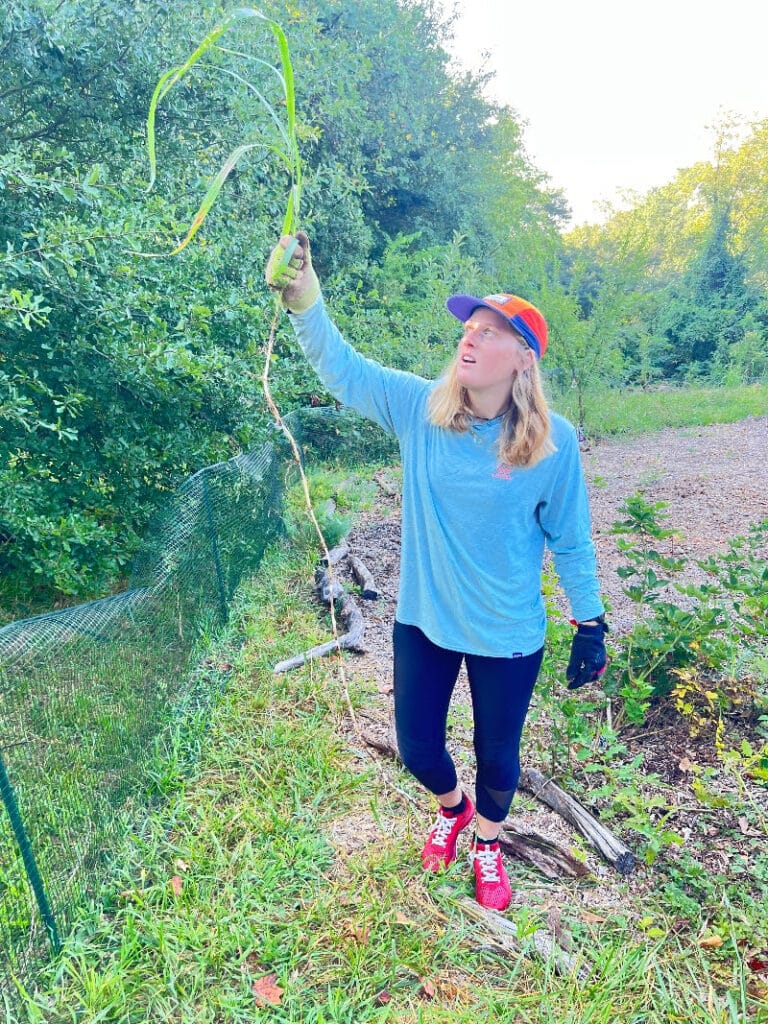 ---
Nicholtown Health Initiative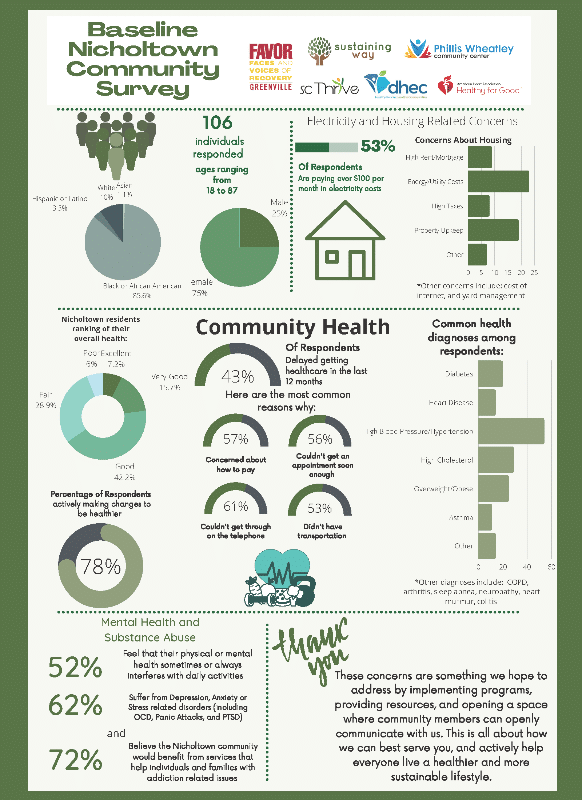 In September, the next phase of the Nicholtown Health Initiative kicked off as community members discussed the results of the 2021 survey of the neighborhood and how to approach improving daily life for Nicholtown residents.
The initiative will focus on improving residents' energy burden, food security and mental and personal health.
---
Annie's House Garden Expansion
Work has begun in the new native pollinator garden at Annie's House. Located at the back of the garden along the Reedy River, we will fill the area with plants local to the region that create habitat for pollinators like bees, butterflies, and birds, as well as beneficial insects that are natural enemies of garden pests.
During the first workday, volunteers cleared the area of non-native plants and created paths with a layer of cardboard to suppress weeds topped by a layer of mulch in a process called sheet mulching.
Workday volunteers included a group from the GE Vernova leadership program. Alex Welsh organized the volunteer day for the group from GE and said volunteering helps them connect with their communities even while being in a rotational program. "It means a lot to get out of a work bubble and go do something that actually impacts people in the place where you're living," said Alex.
We are now preparing the landscape for planting. Work on the native pollinator garden will continue during regular volunteer hours. We hope to see you there!
Thank you to Sophi, our Sustainable Demonstration Site and Agriculture VISTA, for launching this project to make the garden at Annie's House the perfect place for a pollinator party!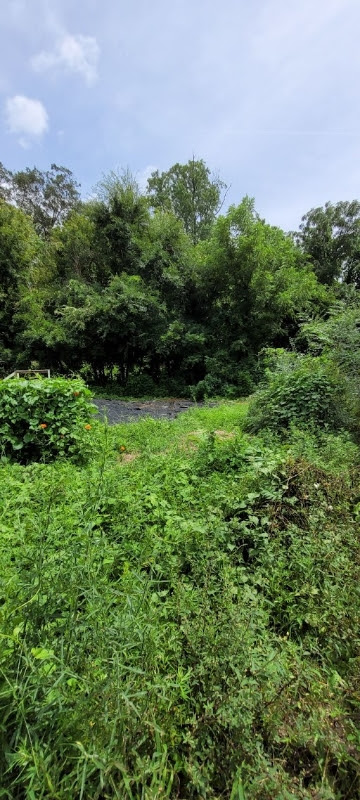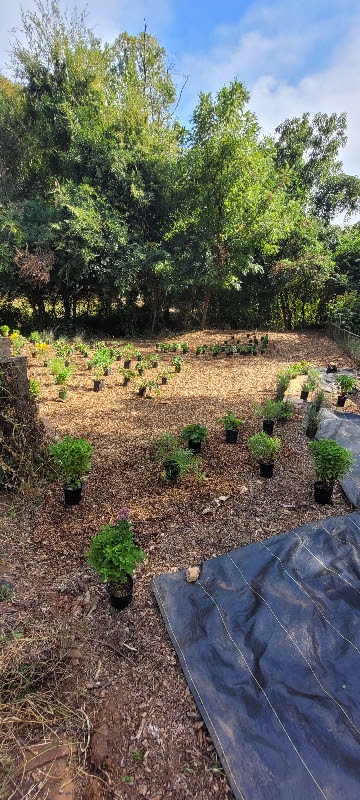 ---
Community Member Spotlight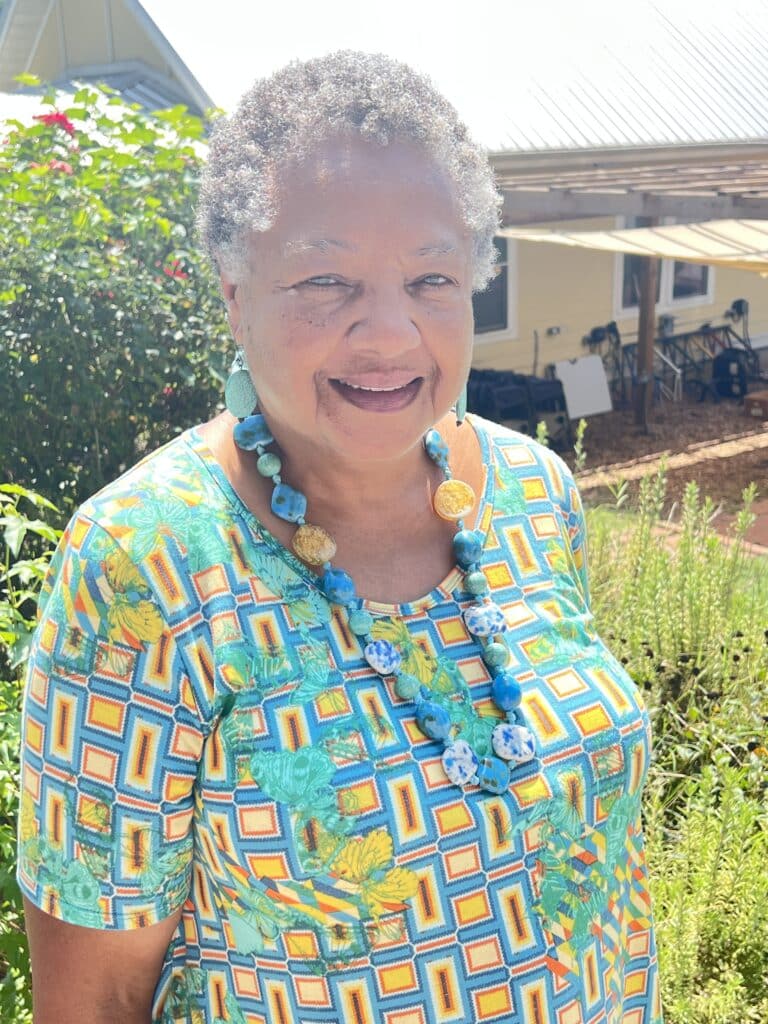 Each quarter, Sustaining Way recognizes an outstanding community member among our partners.
Labedrina Hardaman, also known as La-Bet, received multiple nominations based on her commitment to daily sustainable living. She also lead Sustaining Way's food preservation workshop at the Nicholtown Community Center in August.
"She is very passionate about gardening, food preservation, and the Nicholtown community," said, Sophi Christian, Agriculture VISTA. "At Meals & Masks, she always grabs the unpopular items and uses them in her cooking and canning to ensure no food is wasted. Sustaining Way is so fortunate to know such a passionate and caring individual."
---
Community Updates
Food Preservation Class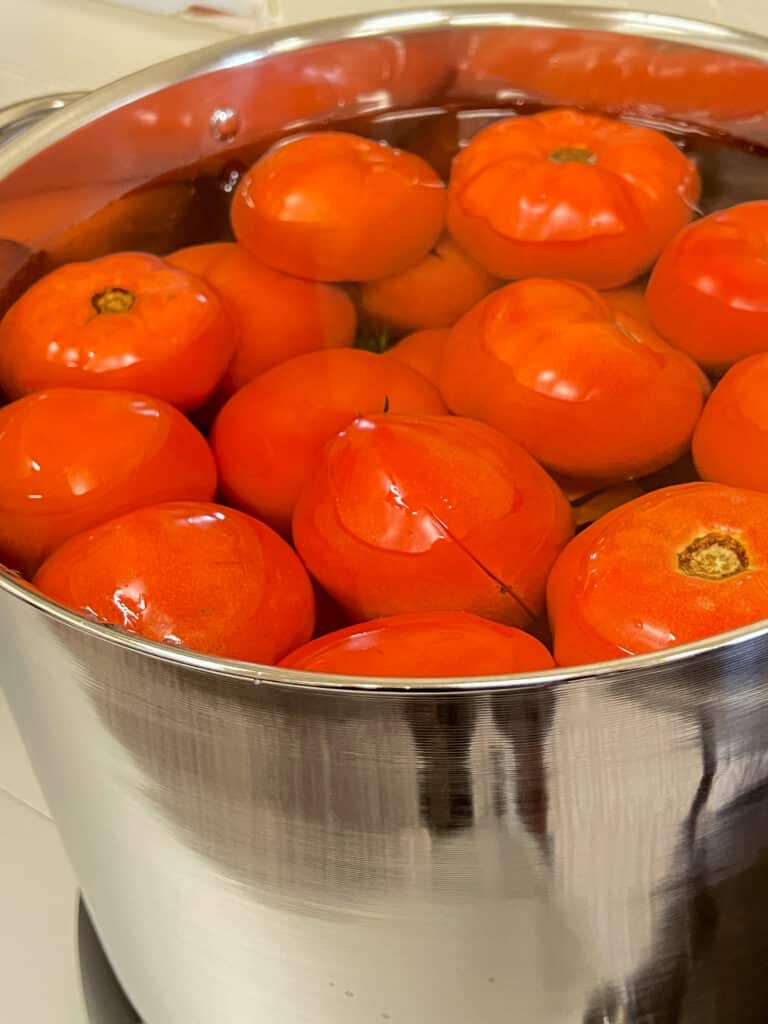 Nicholtown residents learned about food preservation and the art of canning last month at the Nicholtown Community Center.
Many of the women shared stories of watching their mothers, grandmothers, and great-grandmothers preserve vegetables and fruit.
Adding chow-chow, a pickled relish made of bell peppers, green tomatoes, sweet onions, and cabbage to a simple meal was among many of the participants' favorite food preservation.
---
Available Positions!
Come and join the Sustaining Way Team! Below are the current and upcoming openings – you can always browse them on the Careers page of our website and apply through the Indeed job postings.
Sustainable Energy VISTA The Sustainable Energy VISTA will work to improve Sustaining Way's efficiency and effectiveness in energy-related programs in Nicholtown and other marginalized communities. The VISTA project will accomplish this by increasing resident participation in the Energy Home Visit (EHV) program and activities, developing and implementing energy-related impact measures, developing and organizing processes and procedures for SW energy programs, increasing energy efficiency educational offerings, and increasing volunteer engagement in energy efficiency related initiatives.
Development VISTA The Development VISTA Member will play a pivotal role in our journey towards growth and empowerment. Their primary focus will be to enhance our development and marketing efforts, forging stronger relationships with stakeholders and boosting our organizational funding. Your service will directly affect the lives of those we serve, creating a brighter future for our communities. This is a unique opportunity to use your skills meaningfully and contribute to improving Sustaining Way and our world.
Demonstration Site & Food Security VISTA As a Demonstration Site and Food Security VISTA member, you will play a pivotal role in our journey towards addressing food insecurity and access to and consumption of healthy food in Nicholtown and other marginalized communities. This is a unique opportunity to use your skills meaningfully and contribute to improving Sustaining Way and our world.
Not sure if you'd be a fit for one of the above positions but still want to work with us? Fill out this job interest form to let us know what you may be interested in.
Have more questions? Feel free to get in touch!
Volunteer Opportunities
and Giveaways
We deeply appreciate all of our volunteers at Sustaining Way and cannot thank them enough for coming to our various events. Looking to volunteer with us? Check out the new volunteer page on our website to explore all of the ways that you can get involved. We offer many opportunities to get your hands dirty and make a difference in the community.
We hold additional virtual/remote volunteer opportunities if you are not located in the area or if gardening isn't your thing. Our volunteer interest form contains all of the categories of opportunities that we offer.
Come drop off cardboard and food scraps for compost at Annie's House during our Garden Work Day hours!
Volunteer of the Month
Congratulations to Matthew for being randomly selected as Sustaining Way's August Volunteer of the Month! Matthew is a new volunteer with Sustaining Way who has already become active in our garden as part of our weekly garden workdays! Matthew will receive an Amazon gift card as a token of our thanks for his time spent volunteering at Annie's House.
Congratulations to Lumin for being randomly selected as Sustaining Way's September Volunteer of the Month! Lumin started volunteering with Sustaining Way in July and regularly attends our weekly garden workdays! Lumin will receive free pastry cards generously donated to us by Swamp Rabbit Cafe & Grocery as a token of our thanks for his time spent volunteering at Annie's House.
Want to be entered into the raffle for Sustaining Way's next Volunteer of the Month? All you need to do is volunteer with us any time before the end of the month and you will be entered to win!
---
Become a Sustainer Today!
Become a Sustainer of Sustaining Way! By giving any monthly amount, whether $5 or $500, you will be providing essential support for our life-changing programs, and provide us consistent income so we can better focus our efforts on our mission. These monthly donations make a huge difference to us and can gain you benefits like a produce card to use at our garden on site, reusable and sustainable goodies, or even a free energy home visit!
---
We always appreciate any donations, and similar to monthly sustainer donations, any donation amount helps to back our programs and initiatives, and ultimately our mission to use education, collaboration and advocacy to create sustainable, caring, and equitable communities for current and future generations.
---
If you ever want quick access to important links, you can visit this page to find all of them. Our website is also always home to everything, and very easy to navigate.
---
Follow us on:
Please write a review and/or follow us on social media. Please feel free to
like, comment, and share our posts and upcoming events.